Jon Stewart Just Had an Amazing Point About the McKinney Pool Party Nobody's Talking About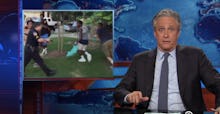 On Monday's edition of the Daily Show, host Jon Stewart pointed out a silver lining about the violent McKinney, Texas, pool party arrests of young, black teenagers, that everyone seems to be missing: At least no one was shot.
You see, this was actually a sign of progress — a police officer pulled a gun on black people and didn't shoot anyone. That's how bad things are in America; it's good news when no one is shot.
Video of the incident was uploaded Saturday to YouTube and went viral. It was filmed by a white teenager who was ignored by police officers as his minority peers were thrown to the ground and arrested.
Stewart began his segment with the footage of the police officer verbally and physically abusing the teenagers, and he sat there looking stunned, asking how one goes from a pool party to police brutality. 
In true Stewart fashion, he then points out how the aggressive officer's ranting, as he yells commands to the children, is not only unpleasant but also redundant.
Jessica Williams, the show's "black correspondent," then appears in a bikini, sporting body armor underneath — a "McKinney bikini" — before explaining why the incident is indicative of progress in American race relations and police brutality. In defense of the officer who grabbed the young girl by the hair to drag her to the ground, Williams  said, "White people always want to touch our hair; it's nothing new."
While the irony is of course funny, it exposes the dark truth regarding the way black Americans are treated in this country. The incident is but one in a string of racially motivated police brutalities, which resulted in a number of a black people killed by police officers. The problem is so profound that the McKinney arrests were a blessing to some given no one was actually shot and killed. There was only the threat of a gun being pointed at them.