23 Incredible Photos From the Anti-Police Brutality Protests Sweeping McKinney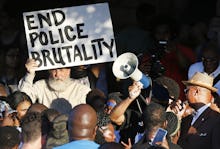 Protests flared in McKinney, Texas, Monday evening, calling for an end to police brutality and the dismissal of police Officer Eric Casebolt.
Casebolt and the McKinney Police Department made headlines over the weekend after video emerged of a confrontation between officers and a number of teenage pool-goers. At one point, Casebolt pulled out his gun, brandished it at the swimsuit-clad kids and also forcibly restrained a 15-year-old girl, digging his knee into her back.  
More than 1,000 people converged Monday evening at the city's Comstock Elementary School before marching to the pool where the incident took place to send a message to law enforcement and the national media, local TV station WFAA reported. A second rally was held outside of police headquarters. 
"Our kids should be able to live in liberty and freedom like everyone else's kids," said one protester, the station reported.
Unlike the actions they were inspired by, the protests were peaceful and dignified. 
The protests also drew a small number of counter-demonstrators in favor of Casebolt and the local police. Shortly after the incident, McKinney police promised a full investigation and announced on their Facebook page that Casebolt had been "placed on administrative leave." 
Casebolt, the force's 2008 "Officer of the Year" has been a member of the McKinney police since 2005 and previously served in the U.S. Navy and as a Texas state trooper, according to a now deleted LinkedIn page, WFAA reported.