Elizabeth Banks Just Nailed Hollywood's Gender Problem in the Most Inspiring Way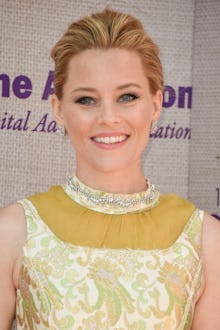 Few recent films boldly and authentically depict the power of female camaraderie quite like Pitch Perfect and its sequel now in theaters. But while the film's cast, including the hilarious Rebel Wilson and Anna Kendrick. may get most of the credit, women were involved in all levels of production, including screenwriter Kay Cannon, as well as producer, costar and the sequel's director, Elizabeth Banks. 
Last week, Banks took the stage at Step Up's Inspiration Awards, taking an opportunity to inspire teens who participate in the organization's after-school mentorship programs and further explain the importance of her work.
Banks talked about a recent visit to Gertz-Ressler High School, a top-ranking charter school in an area of Los Angeles with a heavy Latino immigrant student body. The teens Banks spoke with, she said, "have incredible aspirations, they have ambitions, they have these beautiful dreams but have also faced "boxes and labels that they feared might threaten those dreams" like stereotypes associated with being "Latina, female, high school student, mother," Banks said.
"They obviously knew they could be much, much more," she said. "And they didn't want to be limited or defined by a few labels." This refusal to limit oneself is one Banks knows well. 
"I don't like being defined by those labels or by others, and I don't like limits," Banks said, which is why she started producing and directing in addition to acting. "I knew I had more to offer an industry that clearly didn't expect too much from me," said Banks, who (literally) put her money where her mouth was when her debut film set box office records for a first-time director.
But Banks represents the exception to the rule in Hollywood. The Women's Media Center's 2015 report found, for instance, Hollywood studio senior management is 92% white and 83% male. Meanwhile women in 2014 accounted for only 12% of on-screen protagonists, 17% of films had no speaking roles for black people and women account for only 25% of writers and 23% of executive producers.
Banks' emphasis on knowing one's value and refusing limitation is not only a crucial message for teen girls to hear generally, but it illuminates why authentic media representation on- and off-screen is so important. Better representation of women in the entertainment industry is not about parity or justice within a single industry, but about the effect that industry has on a generation of young women — like the underserved teens Banks addressed.
"You should fight to expand not just others' ideas of what you should be but your own," Banks aptly concluded. "You should surprise yourself."
h/t Variety