Miley Cyrus Just Posed Nude on the Cover of 'Paper' Mag for the Best Possible Reason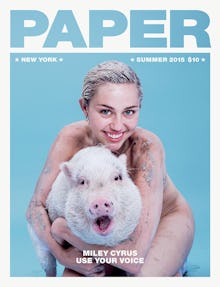 Kim Kardashian's Paper magazine cover has nothing on Miley Cyrus'. The cover of the summer issue shows Cyrus covered in mud and holding her pet pig, Bubba Sue. The story, which was released online in full Tuesday and is on newsstands June 22, highlights Cyrus' Happy Hippie Foundation, a nonprofit that helps homeless teens. On the heels of dying her armpit hair pink to draw attention to the foundation, Cyrus has perfected the art of using her assets to further a very important cause. 
"When you have all eyes on you, what are you saying? And that's what I had to ask myself a lot," she told the Associated Press. "It's like, I know you're going to look at me more if my breasts are out, so look at me. And then I'm going to tell you about my foundation for an hour and totally hustle you."
She's got our attention.
Happy Hippie: Cyrus launched the foundation, which aims to help the 1.6 million homeless teens in America, in May with her Backyard Sessions concert series. She was motivated to create the foundation by the suicide of transgender teen Leelah Alcorn. The pop star called on fellow musicians like Joan Jett and Laura Jane Grace to join her in recording covers to promote the foundation. One of those covers was the Replacements' "Androgynous," which, performed with Jett and Grace, spoke to the alienation often experienced by a large portion of the most affected homeless teens, as 40% identify as LGBT. 
"All humans have valid feelings and rights. I want to use my voice as a megaphone to young people everywhere and encourage human evolution," Cyrus said of the foundation in a statement. "No one should have to hide who they really are, no matter what his or her name, gender or status. That's why Happy Hippies are here to say that every life is valuable."
That's a philosophy that Cyrus lives in every facet of her life. "I remember telling [her mother] I admire women in a different way. And she asked me what that meant. And I said, I love them. I love them like I love boys," she told Paper. "And it was so hard for her to understand. She didn't want me to be judged and she didn't want me to go to hell. But she believes in me more than she believes in any god. I just asked for her to accept me. And she has."
"As long as you're not hurting anyone ... your choices are your choices."
Cyrus has increasingly become an important voice surrounding the issues that matter to young people. Rather than use the magazine cover purely for self-promotion, Cyrus' Paper cover sheds light on the important issue of teen homelessness in America. 
Maybe this time we can "break the Internet" for something useful. 
Updated June 9, 2015, 11:40 a.m.