Here's How to Make Your Own Badass Ukulele Flamethrower Inspired by 'Mad Max'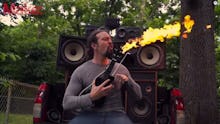 If your musical skills are lacking, there's another way to wow the crowd: learn how to shoot wild flames out of your instrument.
Make, a magazine that guides readers through DIY projects, has given pyromaniacs that option. The publication's Caleb Kraft put together instructions for how to build a flame-throwing ukulele, inspired by the Doof Warrior from Mad Max: Fury Road — "a blind, maniacal creature" who plays a guitar that shoots flames out of its neck.
This is not a drill: 
While it may not be quite as astonishing as a flame-throwing guitar, a flame-throwing ukulele is a pretty close second. 
"I felt that the scale of the one in the movie was a bit outside my comfort zone, so I decided to build a flamethrower ukulele instead," Kraft wrote in a post accompanying the video. According to Kraft, you can find all the materials you need for the weaponized ukulele at a hardware store.
The instructions on YouTube and Make are much more detailed, but here's the gist. 
First, modify the caulking gun:
Then attach it to the ukulele:
Next, attach the fire hose:
Use Shapelock to form a "fuel dispersal module":
Attach the spark gap with electrical tape, and use hot glue to mount the igniter to the body of the uke:
Then, finally, make some flames.
A big warning: This experiment is extremely dangerous. You are, after all, shooting fire out of a tiny wooden guitar. Kraft notes that anyone who wants to try it out should have the necessary safety gear in place. Should you be successful, however, you'll be the most badass ukulele player out there. 
h/t Mashable