Kendrick's Visit to a High School Proves Exactly Why His Latest Album Is So Revolutionary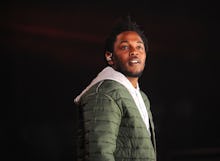 In March, Brian Mooney's freshman English class at High Tech High School in North Bergen, New Jersey, was struggling with Toni Morrison's The Bluest Eye. The 29-year-old teacher sought outside inspiration, and he found a perfect piece of supplementary literature in Kendrick Lamar's recent masterwork, To Pimp a Butterfly.
The album deals with many of the same themes as Morrison's 1970 novel — institutional racism, colorism and mental illness. Mooney blended close listenings with his lessons, and his students responded immediately, producing essays, pieces of visual and performance art unpacking the connection between the works. When Mooney blogged about his success and shared his lesson plans, the posts went viral. 
It wasn't long before Lamar caught wind.
Lamar reached out to Mooney, and they arranged a visit to the school Monday, as reported by the New York Times. Lamar conversed with students, performed for them and, more importantly, gave them a chance to perform their works for him. Lamar changed a lot of lives Monday, which is exactly what he set out to do with To Pimp a Butterfly.
Making a connection: Lamar didn't charge the school for his visit. The only cost was setting up a stage for Lamar, Mooney's class, his hip-hop literature class and the extracurricular slam poetry club. Students performed poems inspired by Lamar's work. Hamza Qureshi, an 18-year-old senior, spit the lines: "You've chose the wrong butterfly to pimp," to compliments and fingersnaps from Lamar, according to the New York Times.
Students also gave their interpretations of Lamar's album, and he offered his own experiences in turn.
"When I talk to kids, I'm really listening," Lamar told the New York Times. "When I do that, we have a little bit of a bigger connection than me being Kendrick Lamar and you being a student. It's almost like we're friends. Because a friend listens."
After an intimate cypher session, Lamar and the students joined the rest of the school in the auditorium for more student performances. Lamar performed "Alright" by request.
Teaching hip-hop: Mooney got the idea of putting Morrison and Lamar in dialogue from a "hip-hop ed" course he took at Teachers College, Columbia University. A 2015 hip-hop record may not immediately call for comparisons to Morrison's classic debut, but Lamar has always meant for the record to be viewed in a literary light. When asked about the meaning of the title, Lamar told Rolling Stone, "That will be taught in college courses someday." Mooney's ahead of the game. Mooney sees Morrison's The Bluest Eye as "a parent to TPAB — Morrison, a living moral ancestor to Kendrick," he wrote in his teaching blog.
It's an explicit record, but Mooney thinks that's important for students to grapple with. "Hip-hop is still the subject of intense, misdirected hatred and discrimination in schools," Mooney wrote. "We aren't protecting students from vulgarity when we forbid hip-hop in the classroom. We are protecting ourselves from our fears about race — while simultaneously robbing our students of authentic opportunities to think critically about the media they consume.
"Literacy in the 21st century means bringing all different kinds of "text" into the classroom — especially hip-hop."
The meaning of the album: Lamar wrote To Pimp a Butterfly to reflect on his role in enlightening a community. It challenges leaders and artists alike to think critically about the impact their influence has on their own communities.
"How can I use it? For better or for worse?" Lamar told MTV, speaking about his influence. "Money or celebrity, how can I use it? How can I pimp it? Can I pimp it negatively, or can I pimp it in a positive way? Positive for me is showing what I go through, what I've been through ... but that I still love myself at the end of the day."
His music has already saved at least one fan's life, and made the lives of several others. His appearance in New Jersey is only proof of how profoundly meaningful his record really is.
h/t New York Times