This Badass High School Senior Just Responded to Haters in the Most Beautiful Way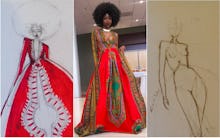 One gutsy and gorgeous student from East Orange, New Jersey, hit back against limiting Western beauty ideals by taking matters into her own hands: wearing a custom-made prom dress she designed herself to celebrate her black heritage.
The Internet has taken notice. 
Kyemah McEntyre, 18, posted photos of her creation to Instagram with the popular hashtag #BlackGirlsRock, as well as her own original hashtag, #KyeBreaktheInternet. In a series of captions, she made her fashion inspiration clear.
The full caption reads:
I'm Kyemah McEntyre, I am 18 years old and I am undoubtedly of African descent. As an artist, I have a completely different point of view compared to most individuals. I am extremely analytical and observant. Throughout the world, we have people who do not notice each others' essence and humanity. We stunt our collective spiritual growth by allowing assumptions and stereotypes to cloud our mind and thus our physical reality. We let these negative ideas get the best of us, and in turn, a world of isolation is manifested by our lack of sensitivity and desire to sympathize with each other. This results in a world in which people live within the confines of their own space, isolated from each other and separated from the rest of the world. Sometimes we get trapped in our own prejudice[d] ways. We don't notice how the idea of a particular type of person changes the way we live our lives.
#KyeBreaktheInternet: McEntyre, who will be studying design at the New School's Parsons School for Design this fall, designed the dress herself, and Markell Evette of Markell's Closet is credited with the final execution. (Mic reached out to McEntyre but has not heard back as of publication.)
In her Instagram captions, McEntyre frames her design as a proud rebuttal to negative stereotypes and labels she's faced down: 
This is for always being labeled as, "ugly" or "angry". Thank God, stereotypes are just opinions. - Kyemah McEntyre?????. #blackgirlsrock #prom2k15#promqueen #queen #kyebreaktheinternet#newgeneration #youth #women
That thinking clearly resonated with McEntyre's Instagram and Twitter followers, who marveled not only at her creativity, but her empowering message. Her dress wasn't only beautiful — it was original, thoughtful and inspired by her African roots. Paired with natural hair, McEntyre's whole prom look was a gorgeous example of self-expression.
Her online followers weren't the only ones who were inspired. It seems like McEntyre's classmates approved of her design — from the looks of her Instagram, they crowned her prom queen.
Show 'em how it's done, Kyemah.