Watch the First Teaser Trailer for the Final 'Hunger Games' Movie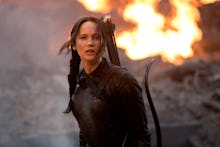 We're closer than ever to knowing how Katniss Everdeen's story will end — assuming we haven't read the books, of course.
The first teaser trailer for The Hunger Games: Mockingjay — Part 2 is here, and all eyes are on taking down President Snow (Donald Sutherland) and the Capitol. Katniss (Jennifer Lawrence) presses on despite concerns about her image as a figure for the revolution.
"We all have one enemy," Katniss shouts in the teaser. "He corrupts everyone and everything."
While most filming was done with the first Mockingjay movie, the cast has seen each other recently. Owing to an epilogue that went unshot previously, according to director Francis Lawrence's interview with Collider, the cast and crew just got back together to finish the series' final scenes. They wrapped this past weekend — perfectly timed with this teaser's release.
While Mockingjay — Part 1 was a significant step down box office-wise for the massive franchise, that's not unusual. The second-to-last films of both the Harry Potter and Twilight franchises, also the first parts of a segmented final book, were both outgrossed by the final installments.
Hunger Games may not be the hottest franchise of the moment, but it's sure to have a dynamic final bow. As this teaser indicates, if it has to go out, it's going to go out in style.
Mockingjay — Part 2 is set for release Nov. 20. All three previous films are available on DVD, while the second, Catching Fire, is also streamable on Netflix Instant.
Watch the full trailer below.