6 Incredible Kickstarter Projects That Are Changing Music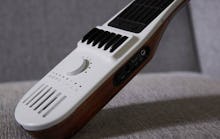 Kickstarters for music may be best known for crowd-funded albums from artists like De La Soul, TLC and Amanda Palmer, but its greatest impact is in funding projects around the music. The platform is responsible for technologies that change how we create and hear music. June is Music Month over at Kickstarter, and projects for music technology run the gamut from surprising to heartwarming to hilarious. 
Here's a look at six of the best music projects that Kickstarter has offered so far:
Mogees
Mogees turns the entire world into a musical instrument. The technology is made up of a sensor that connects to your phone and sticks to any surface you can think of: a tree, a cup, a desk. When you touch or strike the surface, the sound is relayed to the phone and comes out at a certain frequency.
"The name of the device is a geeky reference to its functionality: it stands for 'Modal Gestural Surface,'" CNN wrote. "Nothing is random: If you make the same gesture twice, you get the same sound. Through the app, you can select the musical notes and timbres that you want it to associate to your gestures."
Mogees made nearly £100,000 during its Kickstarter funding, surpassing its goal. For now, the technology is just available to backers, but hopefully they'll be available to buy before the end of the year.
Here Buds
Here Buds are wireless earbuds that, instead of playing music, let you control the sound of the world around you. The buds connect to a smartphone app that in turn lets you lower the volume on the world, as well as adjust the sound settings through a live music equalizer. You can even remix real-time audio, like a concert or sporting event.
"Before we launched this project we talked to dozens upon dozens of the top musicians and producers to really make sure everyone was on board," CEO Noah Kraft previously told Mic. "And the overwhelming feedback is, 'We hate going to a show and being at the whims of the guy behind the board,' especially those bands that are just starting out and they don't have the power to do a three-hour room check."
In just two days, Here Buds reached their quarter-million-dollar Kickstarter goal.
The Tank
The Tank is an abandoned rusted steel water tank in the Colorado hills. The Kickstarter page claims that it's an "acoustical marvel" that was discovered in 1976 and has been used as a recording space ever since. But the tank was in danger of crumbling, so a group of musicians took the lead on a campaign to preserve it for generations to come.
"The tank has changed the ears and hearts of everyone who has ever played there or listened to this cathedral of sound," the Kickstarter page reads. "It retunes our music and wakes up our ears to new potential. Sound comes from a mouth or an instrument and soars around the space, expanding its dimensionality, growing and moving and living and shifting until a single tone becomes a whole world of sound. One would be hard pressed to discover a space with greater potential for creative depth or exploration."
The Tank surpassed its $42,000 goal, and now the team is working on securing funding to make it a permanent fixture.
Artiphon Instrument 1
Artiphon's Instrument 1 is an instrument catchall: It's a playable board that transforms into any instrument, from guitar to drum to saxophone, and it plays incredibly well. Seemingly endlessly compatible (the device plugs into Apple iOS devices, PC or Mac computers and works with hundreds of music apps, including GarageBand and Animoog) Instrument 1 is truly for everyone, from novice to maestro.
"We chose the name INSTRUMENT 1 partly because we want people to approach it as a blank creative canvas," inventor Mike Butera previously wrote Mic. "Software lets you make any sound, but hardware instruments tend to do just one thing. It's either a keyboard, a guitar, a DJ controller, etc. We envision musical multi-instruments that can flexibly adapt to however you want to play."
Artiphon's Kickstarter goal was $75,000, but within six hours it had blown past that; three days in, it surpassed $200,000. They'll be delivering the instrument to their backers soon, but haven't announced when it'll be available for mass distribution.
Jack
Jack is a device that plugs into a guitar and connects to an amp, phone or speaker via Wi-Fi. It's a patent-pending technology that promises no compression with a high response rate, unlike similar wireless devices that work via Bluetooth. Jack replaces wires with a "studio-quality 24-bit connection," its inventor John Crawford told the Telegraph, via Guitar World.
"This is nearly 13 times quicker than conventional Bluetooth and about three times faster than compressed 'low-latency' Bluetooth," Crawford said. The company raised £35,000 to reach its Kickstarter goal and have yet to announce when they'll release the technology to the public.
DrumPants
DrumPants are wearable sensors that turn you into a walking one-man band. The technology attaches to the inside of your clothes, and each sensor location has a different sound: hi-hat, snare, cymbal, kick drum, loop pedal, tom and more — upwards of 100 sounds in all. The sensors connect to a belt-mounted controller that connects to apps via Bluetooth or USB. 
"I'm imagining a world where social interaction is fostered by music creation," developer Tyler Freeman told Fast Company. "When people are just walking around the street wearing DrumPants, they can create music with anyone they run into, wherever that may be. Just jam a quick diddy with someone on the bus, or make beats with your friends on the street."
DrumPants far surpassed its goal of $35,000, reaching nearly $75,000. The technology is available for purchase right now, and will cost you from $140 for the basic kit to $260 for the "Neil Peart" edition.