The Strange History of How Hitler's 'Mein Kampf' Became a Bestseller in India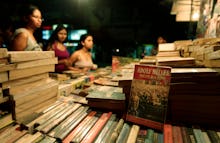 Like almost anywhere else in the world, Indian bookstores tend to place national bestsellers at the entrance, enticing readers as they walk in. Foreigners might be surprised to discover the book very often featured among that coveted selection is none other than Adolf Hitler's Mein Kampf. One of the biggest publishing companies in India distributing the book has seen sales of it steadily increasing annually.
More than a dozen editions of Mein Kampf have circulated through India, translated into various languages such as Hindi, Gujarati, Malayalam, Tamil and Bengali. The English edition distributed by publishing house Jaico sold more than a hundred thousand copies between 2003 and 2010. 
"The initial print run of 2,000 copies in 2003 sold out immediately and we knew we had a best-seller on our hands. Since then the numbers have increased every year to around 15,000 copies until last year when we sold 10,000 copies over a six-month period in our Delhi shops," R. H. Sharma, Jaico's chief editor, told the Telegraph in 2009, at which point his publishing company was reprinting the book twice annually to keep up with demand. 
The ebook version has been topping the charts, surpassing hardcopy sales and becoming a bestseller online in 2014. Right now, for a mere 76 cents USD, you can purchase the Kindle version of Mein Kampf, which sits at Amazon India's 11th bestselling book.
While a lack of official numbers and piracy issues mean these figures are likely an underrepresentation of the manifesto's prevalence, suffice to say that the book and its author's popularity have been on a steady rise in the world's second biggest country. 
The fanfare in India extends beyond the written word. In 2011, capitalizing on the figure's popularity, the Indian film industry produced a film entitled Dear Friend Hitler, also known as Gandhi to Hitler. The IMDb synopsis reads, "Adolf Hitler assists India in its freedom struggle against the British, while Mohandas Gandhi writes to him to end violence." The reviews were not good, but the film exists nonetheless.
An ice cream cone company tried its hand at profiting from Hitler's fame, too, by naming their product after him. News of these cones broke in early June, with media outlets branding it "Hitler ice cream." From Bollywood to ice cream, it would appear the dictator has a compelling attraction throughout the country.
So, why is this all happening? It stems from a number of factors, some of which date back decades. One of India's most beloved politicians and freedom fighters, Netaji Subhas Chandra Bose, who was president of the mainstream party Indian National Congress and helped lead the struggle for independence against the British, befriended Hitler in the 1940s. While his leftwing ideology was at odds with Hitler's,  Bose made the political miscalculation of seeing Hitler as an ally just because they shared a common enemy in the Brits. 
"Remember that Bose is still an iconic leader about whom no wrong can be uttered, yet he openly hobnobbed with Hitler for his nationalist purposes," Jayati Ghosh, a social activist and economics professor at Jawaharlal Nehru University, told Mic. "Netaji is so venerated, you cannot say anything against him. He can do no wrong."
This love of Hitler is further reinforced by a resistance to social progression. "There's the aspiring middle class, the bourgeoisie, the petit bourgeoisie," Ghosh explained, of which she estimates there are approximately 250 million. "And that group doesn't like the chaotic facets of Indian society. Things like lower [Hindu] castes demanding rights, gay parades, women campaigning for gender equality, things that are upsetting the traditional order of things." Indians resisting these changes have a profound desire for strong leadership, particularly of a kind which centers around conformity.
This desire for conformity also explains the rise of Prime Minister Narendra Modi and his Bharatiya Janata Party, a right-wing, fiercely nationalistic party that believes India should be a Hindu state only, to the exclusion of religious minorities, such as Muslims or Sikhs. Modi, for example, is largely regarded as responsible for the 2002 Gujurat riots, the state in which he was chief minister at the time, which saw thousands of Muslims murdered by Hindus. 
An integral part of this Hindu nationalist movement is the RSS (Rashtriya Swayamsevak Sangh, or "National Volunteer Organization"), a nongovernmental volunteer group and the world's largest NGO.
"Dependence has always been there. Sixty per cent of the BJP's people have a Sangh [RSS] background, are connected to it ... It is a mentor, a fatherly figure. Ultimately, we listen to what the Sangh says," Devendra Fadnavis, a BJP chief minister, told the Hindu in 2013. 
The RSS is impressively pervasive across such a large country and with their presence comes their ideology. As Aryans originated in northern India and ancient Iran, certain elements of Nazism are in harmony with RSS ideology.
"The RSS has never disowned Hitler, they also love all this Aryan stuff, so it's natural happy hunting ground for Hitler," Ghosh told Mic, also contending that the organization is exploiting the BJP's majority to spread rapidly. "Of course, they need to have their own reading material aside from the traditional Hindu texts; they need some international material to seem more politically credible, so Mein Kampf is perfect for that."
Prime Minister Modi has never condemned Hitler either. "And for someone who talks so much, incessantly tweeting all the time, his silence on critical issues is remarkable," says Ghosh.
Whitewashing history. The BJP and RSS have led the charge to rewrite history in school curriculums so it is more closely aligned with their ideology. New schoolbooks are being issued and some children in Gujarat are being taught the first airplane was invented in ancient India, flown by the Hindu god Lord Ram. 
"The move to infuse right-wing ideology in mainstream curriculum has been started by printing books with a religious bias using taxpayers' money," Gaurang Jani, a professor of sociology at Gujarat University, told Al Jazeera in 2014. 
The way history is being rewritten at every level, from schools to political rhetoric, suggests India's love affair with Hitler will not be a passing fad. In fact, understanding why he remains a cultural icon suggests Mein Kampf will become an inextricable part of the country's social and cultural fabric. The book is wildly popular among Indian business students, for example, as it is seen as a success story of hard work and determination. 
Outside of religious scripture, the book has become a textual centerpiece of sorts for the newest breed of Hindu nationalism. "Their [RSS] tentacles are getting very deep, starting at a school level. And the way history is whitewashed is deeply damaging," warns Ghosh. 
When kids in a Mumbai school were tasked with writing down which historical figures they admire, 9 out of 25 wrote Hitler, according to the Daily Beast. Admittedly, this is a small sample size, but it does appear to be indicative of larger trends. When asked why, one of the 10th-grade students replied: "He was a fantastic orator. He loved his country; he was a great patriot. He gave back to Germany a sense of pride they had lost after the Treaty of Versailles."
When the teacher pushed on the matter of Hitler's fascistic tendencies and mass murders, the students were ready to defend the Führer. "Oh, yes, that was bad," they said. "But you know what, some of them were traitors."