16 Side-by-Side Photos of New Features on iOS 9 Show How Your iPhone Will Change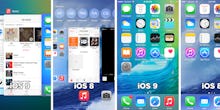 Apple unveiled iOS 9, its new mobile operating system, at the annual developers' conference Monday. While the new OS won't be released in beta form until July (and a final release in the fall fall), it's available to registered developers — who are, of course, posting their discoveries to reddit and Twitter. We added iOS 8 screenshots for side-by-side comparisons that show some of the key changes coming when iOS 9 goes public.
There's a lot you should be excited about. In a few months, we'll see improvements to the Notes, Maps and Alarms apps, as well as updates to Siri, the keyboard (finally!) and search tools.
1. Here's the new iOS 9 home screen. Check out the Wallet app.
3. The Notes app got a major upgrade. 
4. The keyboard has a small but crucial update. It shows capital letters and lowercase letters so you know if the shift key is on. It fixes a problem a lot of people complained about.
5. The app switcher got an overhaul.
6. And Siri looks different too. Her sound wave is more colorful.
7. Here's Siri's new microphone icon.
8. You can now swipe to delete alarms on the Clock app.
9. A widget in the drop-down notification menu shows the charge on your iPhone and Apple Watch.
10. Alerts look more rounded.
11. Here's what blank Safari icons look like.
12. You can search Settings for specific tools.
13. Maps now has icons for recommendations.
14. It saves home, work and favorite locations.
15. Finally, here's what the long-awaited transit feature looks like.
16. Health will let you track your sex life.
Your menstrual cycle and sexual activity are now part of the Health app. But don't worry, you'll have to upload that info manually; Apple isn't watching you in bed.