The Strangely Close Connections Between 'Gilmore Girls' and Shondaland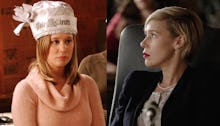 For many Gilmore Girls fans, watching Scandal is a disorienting experience. Why is Mitchum Huntzberger, father of Rory Gilmore's college boyfriend Logan, hanging out with Olivia Pope? When did Paris Geller become a White House intern? Who shot Lane Kim?!
In a strange pseudo-crossover, many of the cast members from Gilmore Girls have appeared not just on Scandal, but all of executive producer Shonda Rhimes' shows. This trend runs the gamut from How to Get Away with Murder star Liza Weil to frequent Shondaland guest Liz Torres, with a few guest and recurring stars littered between.
What is it about the denizens of Stars Hollow that's so attractive to Shondaland's casting departments? The low-stakes WB dramedy and the breakneck-paced ABC dramas would appear to have nothing in common. Upon closer inspection, though, and after talking to several Gilmore Girls stars at the ATX Television Festival, Olivia Pope and Lorelai Gilmore's worlds may be more similar than previously imagined.
For one, both worlds pride themselves on their dialogue. On Scandal, characters talk a mile a minute — until they stop to deliver the most important part. ("DO. NOT. LIE. TO. ME.") The stakes may be much lower on Gilmore Girls, but the chatter is just as quick.
"It took me so long to slow down in auditions. Then you find this job where you're actually meant to burn through stuff," Weil, who played Paris on Gilmore Girls and currently plays Bonnie Winterbottom on How to Get Away with Murder, told Mic. She also had a memorable arc as Tanner, the White House intern and presidential mistress, on Scandal. "That that carries over into a Shondaland thing as well — it's interesting and unusual and maybe just meant to be."
"It's interesting and unusual and maybe just meant to be," Weil said of the similarities between Gilmore Girls and the Shonda Rhimes shows.
Indeed, a Palladino-logue (for Gilmore creator Amy Sherman-Palladino) is just as quick as the best Shondalogue. Rather infamously, a dialogue coach was needed on the Gilmore Girls' set to help them master the pace. The cast was grateful, though; it was just that kind of set.
In fact, that's another key similarity between the two shows: casts that are more like families. 
"Scandal has one of the best sets," Agena told Mic. She played Lane Kim for seven seasons on Gilmore Girls, while her stint on Scandal was as an employee of Olivia's who suffers a lethal fate. Agena didn't mind dying in such a friendly place, though. "Every star on that show could not be sweeter to guest actors, to background actors on there. It is so warm there," she said.
Weil agreed, adding that the good vibes from set continued into Saturday night's reunion panel. "Even all these years later, you know, it was really special to see people we haven't seen," she said.
Yet there must be other shows with fast-talking, friendly folks. Whatever it is that keeps Rhimes in the Gilmore business, Torres is just grateful. "Thank God for her," she said. "She must be a fan."
Could the explanation really be that simple? Is Rhimes a Gilmore Girls fan? In fact, according to Agena, she is.
"I've had the fortune to meet with her once," Agena said. "I think she likes Gilmore Girls. I know personally, she's brought me in to read for her shows. The role on Scandal was a role that I didn't have to audition for. It was really lovely. She's been really welcoming."
Since we're not getting a Gilmore Girls revival any time soon, we can give thanks for Rhimes. She's helping keep the fine people of Stars Hollow employed. Alexis Bledel: Stay by your phone. You never know when you'll be called to learn how to get away with murder.