McKinney Officer Eric Casebolt Resigns Amid National Outcry Over Force Against Teens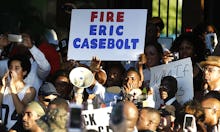 After a groundswell of nationwide criticism, the McKinney, Texas, police officer involved in the disturbing video shown using excessive force against a black teenage girl in a bikini at a pool party resigned from his official duties Tuesday, a Dallas Fox News affiliate reports. 
Police on Friday were responding to calls for the Craig Ranch North Community Pool in McKinney, Texas, near Dallas, where a local resident was throwing a party. McKinney police Cpl. Eric Casebolt was captured in the video shoving 15-year-old party guest Dajerria Becton to the ground and then pulling a weapon on bystanders after a police presence was requested at the pool.
Shortly after the incident, the McKinney Police Department said in a Facebook post that the video "raised concerns that are being investigated by the McKinney Police Department. At this time, one of the responding officers has been placed on administrative leave pending the outcome of this investigation."
Casebolt was initially placed on administrative leave, but Monday during a demonstration following the national attention on this Dallas suburb, Becton told KDFW-TV, "Him getting fired isn't enough," the Dallas Morning News reports. 
Casebolt joined the McKinney Police Department in 2005.