New Survey Finds Access to Abortion Actually Lowers Abortion Rates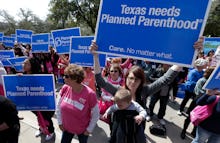 How do you make abortion rates drop?
According to an Associated Press survey, stop trying to force them down. Or, more specifically, don't make it impossible to access an abortion.
Based on data collected from 45 states' health departments, since 2010 the states with the least restrictions to abortion access saw the sharpest drops in abortion rates. There is a 12% decrease nationally, but states with more progressive abortion restrictions such as Hawaii and New Mexico have seen drops as high as 30% and 24%, respectively.
Other states with more aggressive anti-abortion laws such as Indiana, Missouri and Ohio also saw drops, but nowhere near what the more progressive states achieved through either not introducing restrictive laws or actively protecting abortion rights.
The decline isn't caused by only one thing: Anti-abortion rights activists contend the decline is due to more women deciding not to terminate pregnancies, while abortion rights advocates argue the causes stems from improved access to contraceptives and reproductive health care. Health care insurance in Rhode Island and Connecticut, for example, offer complete coverage for contraception.
However, given the myriad factors, it would be hard to argue the shift the Associated Press documented is caused by one variable — in this case, accessibility of abortion. 
The 30% decline in Hawaii, the most substantial drop of all the states, correlates with a change in how sex education is taught. In 2010, the Aloha State shifted from abstinence-based education to evidence-based. A few years later, in 2013, a law passed allowing teenagers as young as 14 to purchase the morning after pill without parental consent. 
This correlation is not a startling discovery either. "There's almost no getting around it. States with abstinence-only education have the highest rates of teen pregnancies," Mic's Matt Essert wrote in 2014 regarding an interactive map on U.S. teenage birthrates by state, from 1990-2012.
Warring ideologies: These statistics offers an opportunity to understand the variables causing the decrease in abortions. However, the survey mostly appears to have inflamed contentions between the left and right thus far, with both sides taking credit for the decline. 
"There's an entire generation of women who saw a sonogram as their first baby picture," Charmaine Yoest, president of Americans United for Life, told the Associated Press. "There's an increased awareness of the humanity of the baby before it is born."
But pro-abortion advocates argue more progressive reproductive laws are to thank. "Better access to birth control and sex education are the biggest factors in reducing unintended pregnancies," Cecile Richards, president of the Planned Parenthood Federation of America, told the Associated Press. "More restrictive abortion laws do not reduce the need for abortions."
While it may be impossible to prove what is causing this social trend, it's nearly impossible to ignore the fact that the states with the less restrictive laws had the biggest drops in abortion rates, likely due to factors such as sex education, access to birth control and a general attitude toward sex and pregnancy, but with so many factors at play, it's hard to know for sure. 
What is likely is that these correlations are more than just a coincidence and there are lessons to be learned.