YouTube Beauty Vlogger Ingrid Nilsen Just Came Out and Her Fans' Response Was Inspiring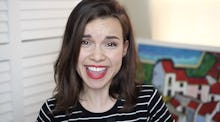 "There's something that I want you to know," YouTube star Ingrid Nilsen says in the early seconds of her latest video. "And that something is, I'm gay."
Fans of the well-established beauty vlogger and judge of Lifetime's Project Runway: Threads were hardly expecting this announcement. While a number of YouTube stars have publicly come out in previous years, Nilsen's statement was both particularly surprising and uniquely meaningful for her followers for a few reasons. This proclamation and her fans' responses to it bulldozed plenty of stereotypes; both serve as a model for this experience.
First, Nilsen has publicly discussed her relationships with men before. She was notably involved with fellow YouTube star Luke Conard, as well as Big Frame employee Christopher Erwin. However, Ingrid notes in her video that her sexual orientation should not minimize those relationships. 
"I care about the people that I have been in relationships with and I respect our relationships," she says in the video. "The fact that I am gay does not change that."
"I can care about a man," Nilsen explains. "But I cannot be in love with a man and I cannot give myself completely and fully to a man."
Shattering stereotypes: Beyond complicating a binary system of sexuality, Nilsen's decision to come out so publicly as a woman was a watershed moment, and shattered many existing stereotypes about coming out — especially in the YouTube community.
"Can I just point out how important this is," commenter Chelsea Cash writes. "How many 'big' female YouTubers have come out compared to males? Close to none. How many beauty/lifestyle gurus are out as gay? Close to none." 
The power of being visible: In fact, while several high-profile vloggers have come out recently, including Connor Franta and Joey Graceffa, they have mostly been men. Additionally, many of the high-profile YouTubers who are already out are also men.
 "This is going to help so many people, so many girls and women who are not only confused, or afraid to come out, but to also help people to accept who they are no matter what the situation," Cash noted. "This video will literally save lives."
Cash was hardly alone in her support for Nilsen. Her followers — many of whom have followed the beauty guru for close to six years — took to social media to demonstrate their support, leaving encouraging comments on YouTube and Twitter. 
"It feels so good to say that," Nilsen says right after saying that she's gay. Hopefully as Nilsen and others continue to provide heartwarming models for how loving, accepting and non-stereotypical the experience of coming out can be, more young gay people will feel encouraged to do the same and be embraced when they do.