Here Are the Offensive Tweets Behind Iggy Azalea's Canceled Pittsburgh Pride Performance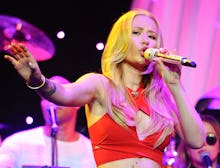 2015 has been hard on Iggy Azalea. After a series of public missteps, the "Fancy" singer cancelled her Pittsburgh Pride headlining appearance on Monday morning after LGBT groups dropped out of the event in light of her past offensive tweets. Azalea has a history of offensive language she's often obscured, but she can't hide it any longer. "I am truly disappointed that I have to share this news, but I will no longer be performing at Pittsburgh Pride on June 13," she wrote and shared on Twitter. 
Here are a few of the most offensive tweets in question, according to the Guardian: 
The tweets, now deleted, have come under fire before, but they've been unearthed again in light of the concern over Pride. The head of the Pittsburgh chapter of the Gay, Lesbian and Straight Education Network told the Pittsburgh Post-Gazette, "Our board voted last week to not march in the Pittsburgh Pride parade, due to the insensitive choice of Iggy Azalea as headliner." 
The sponsor of the pride parade, the Delta Foundation of Pittsburgh, replied with this statement, according to the Pittsburgh Post-Gazette: "We're sorry that our headliner choice caused a division within our community, but we believe that change happens through conversation. We are meeting with key LGBT leaders to start a discussion that will make our collective community even stronger."
Azalea took to Twitter on Monday night to announce that she was stepping down from her headlining slot. In "A Message to Pittsburgh," she wrote:
This cancellation comes shortly after Azalea bailed on her Great Escape tour, claiming that she needed a break, though other reports claim that ticket sales were just too low. After a year of backlash and plummeting popularity, Azalea's career prospects are dimming.
The recent outcry against her explicitly homophobic and racist past follows on the heels of the hip-hop community lambasting her for cultural appropriation. In December, a Twitter fight with Azealia Banks led Q-Tip and others to attempt to educate Azalea on the cultural significance of hip-hop:
After the initial wild success of The New Classic, Azalea has had a pretty rough year. Hopefully she's going to learn from it — and learn that defending herself by saying she was young and naive just won't cut it.