One Chart Proves Why Spotify Is Still a Huge Part of Music's Future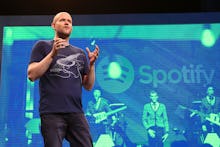 For as young as it is, Spotify has made a lot of enemies since it launched in 2008. Artists like Taylor Swift and David Byrne have penned ruthless takedowns of the company, accusing it of devaluing music. New services like Apple Music and Tidal have taken thinly veiled potshots at the Swedish company's business model in their own launches. But in spite of it all, Spotify is more than delivering on its promise of being a new and sustainable platform for the industry.
Spotify is the villain in the popular narrative, but one look at the numbers tells a completely different story. On Wednesday, Spotify announced that its paid user base has surpassed the 20 million mark. Whenever its paid user base grows, its rights holder payout climbs with it. The company actually pays rights holders well relative to what it earns, and it's only earning more. In the first quarter of this year alone, Spotify has already paid out $300 million to artists.
The royalty system. Spotify pays nearly 70% of the royalties earned off streams to the artist's camp. Those royalty amounts are based on several factors, including an artist's royalty rate and the percentage of paid subscribers in a country. In Sweden, for example, as of November, a much higher percentage of its population pays for streaming than does America, which means artists earn five to 10 times more money off streams. The more paid subscribers, the more there is to go around for artists on all levels, from indie acts to global superstars.
The freemium question. Spotify's competitors often attack its freemium service, which allows listeners to use a slightly more inconvenient and ad-filled form of the service without having to pay for it. In the estimation of concerned parties like Jay Z, this devalues music.
However, Spotify is proving that its system works. It increases the scale of users reached and encourages them to convert to being a paid subscriber. In a recent video celebrating crossing the 20 million paid subscriber mark, the company discusses the freemium aspect of its service. It compared its free service to radio, which is also free and ad-filled, while the paid service is the equivalent of buying a record (or, perhaps more accurately, a stake in a record store). The company revealed that 80% of its paid user base started as free users. 
In spite of Apple's grand entrance into the music streaming game, investors don't seem too concerned. This week, news broke that Spotify closed a round of $526 million in funding, putting their current valuation at $8.5 billion. The streaming giant is going to be in it for the long haul.
The real problem. The real reason artists are not making any money off streaming has nothing to do with Spotify's royalties. Royalties are paid to rights holders — artists and labels alike. But the way the label divides up the money shortchanges artists. In some cases, artists may only see 6% to 10% of that money, according to Swedish entertainment lawyer Per Herrey.
That dynamic is not going to change overnight, no matter what streaming service people are using. The new Apple Music announced Monday is nice, but few of its innovations seem as revolutionary as they claim. The music industry is in flux, but most people are getting the enemy wrong. Spotify has a bright future still ahead.