17 #SeanToon911 Tweets Are the Best Response to the White McKinney Man Who Called Police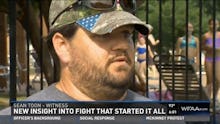 Before there was Eric Casebolt, there was Sean Toon. 
Before the former McKinney, Texas, police officer made headlines with his dangerous behavior toward a group of black neighborhood teens, Toon and some fellow white residents put things in motion by calling 911 and bringing Casebolt and fellow officers to the scene.
"We were telling the security guards, 'Hey, these guys are jumping the fence, they're passing access cards through to each other, they're not supposed to be here," Toon told local television station WFAA.
Unlike most people who have watched the now infamous video, Toon distinguished himself by looking at things from the police perspective, telling USA Today, "I think he did what he thought he had to do to control the situation."
During the ensuing outcry over the violence, Toon was this guy.
In honor of Toon's vocal defense of his instincts to call police when seeing black people engaging in "suspicious activity," Twitter users responded with a brilliant hashtag highlighting what they felt would be the most Toon-esque response to black people in various situations.
Some of the results of #SeanToon911 were pure genius.
Joking aside, being black is not a reason to call police. #SeanToon911 shows the ridiculousness of getting police involved when the individuals in question are a group of ordinary teenagers. Law enforcement has many legitimate and critical roles to play in the safety of American society but indulging in the paranoid fantasies of white bigotry should not be one of them.