Michelle Obama Gave a Moving Commencement Speech to High School Grads in Chicago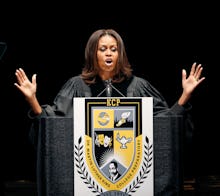 First lady Michelle Obama delivered a stirring commencement address Tuesday to the graduating seniors of Martin Luther King Jr. College Preparatory High School on the South Side of Chicago. The school made national headlines in 2013 when 15-year-old honor student Hadiya Pendleton was shot and killed nine days after marching in President Barack Obama's second inaugural parade.
Pendleton would have been among those in a cap and gown for Tuesday night's ceremonies. In her place, organizers reserved an empty chair, fitted in purple with a feather boa and a bouquet of flowers, according to the Associated Press.
"Hadiya's memory is truly a blessing and an inspiration to me and my husband, and to people across this country and around the world," said Obama, who attended Pendleton's funeral in 2013. "I know that many of you are thinking about Hadiya right now and feeling the hole that she's left in your hearts."
The first lady also spoke about her own time as a student on the South Side, and the challenges of early trauma overcome by the graduates.
"I am who I am today because of this community," Obama said. "I know the struggles many of you face: how you walk the long way home to avoid the gangs; how you fight to concentrate on your homework when there's too much noise at home; how you keep it together when your family's having a hard time making ends meet." 
Born on the South Side in 1964, Michelle Robinson attended public schools in the area before leaving in 1981 to pursue her undergraduate degree at Princeton University. She would go on to Harvard Law School, eventually entering private practice, where she met a summer intern named Barack Obama.
But on Tuesday, the first lady set aside the White House and urged the young graduates to carry on and find strength in pain:
"So maybe you've been tested a lot more and a lot earlier in life than many other young people. Maybe you have more scars than they do," Obama said. 
"But graduates, tonight, I want you to understand that every scar that you have is a reminder not just that you got hurt, but that you survived."
You can watch an excerpt of Obama's speech here: