Pornhub Is Raising $3.4 Million to Film the First Sex Tape in Space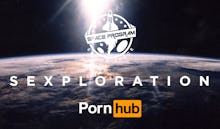 Like YouTube before it, the NSFW streaming-video behemoth Pornhub is edging toward the original content arena. For Pornhub, it means crowdfunding $3.4 million to send two porn stars into space to learn about the solar system and explore new worlds.
Just kidding. They're going to have sex.
The colossal video site announced Wednesday it's raising money for the first sex tape filmed in space. About $2 million will go toward room on a commercial spaceflight and the six months of training necessary to turn actors Eva Lovia and Johnny Sin into temporary astronauts.
"The training is going to be rigorous," Lovia told Mic via email. "Johnny and I have to be physically prepared for take-off and landing, be well-versed in the proper safety precautions, master science and space technology information, undergo gravity simulations, etc. It's extensive, it's long and it's going to be a complete undertaking."
According to the Indiegogo campaign overview, the mission — beyond creating porn — is to do its part in researching the aspects of life in space that might not be observed by a crew of traditional astronauts. 
"Pornhub," the campaign page says, "is teaming up with top-ranking adult studio Digital Playground in joining the ranks of [Neil] Armstrong and [Russian cosmonaut Yuri] Gagarin by pioneering a one of a kind mission to defy gravity, make history, and push the boundaries of intergalactic 'Sexploration.'"
After five hours, the campaign had raised $1,042 by 14 people, with 61 days left to achieve its massive goal.
The big problem with raising money for a space-sex tape: There are some corners you just can't cut. 
Compared to the fee of actually going into space, the production cost for everything else is relatively low. And because the training will take half a year, Pornhub estimates the film wouldn't even come out until late 2016. That's a long time to wait for the contribution perks, which run from $1 for a "Certificate of Endorsement" to $150,000 for one of the prop spacesuits worn on set (plus underwear and a swag bag). 
The actors are less concerned with the funding than they are with the actual act. "My main question is whether or not zero gravity will affect my orgasm," Lovia said. "If it feels that good on Earth, I can only imagine what it must be like in zero gravity." (Actually, scientific evidence suggests space sex might be kind of a chore.)
Interstellar nookie has been part of the space conversation for years. Perhaps Pornhub's venture could spark progress in humanity's attempt to expand into the galaxy. It's just weird to think Armstrong could be on the same historical list as a guy named Johnny Sin.
Watch the full campaign video, which looks like a sketch from Tim and Eric Awesome Show, Great Job!