Hillary Clinton Just Joined Instagram — and Here's Her First Post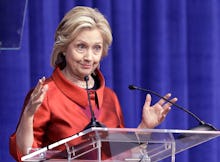 Democratic presidential candidate Hillary Clinton is officially on Instagram.
The former first lady, senator and secretary of state joined the photo-sharing social media tool Wednesday in what one could probably guess is an attempt to even further bolster her appeal to young voters in the lead up to the upcoming 2016 presidential election.
Her first post? A red, white and blue array of her iconic pantsuits.
It's a post in the same vein as Vice President Joe Biden's inaugural upload to Instagram, which similarly sought to encapsulate his own archetypical style choice: Ray Ban aviators.
It's clear that despite an ongoing debate over whether it's sexist to discuss about her fashion choices, Clinton wants you to notice them, as she emphasizes her laid-back, self-effacing persona. It's not quite the display of badassery Biden demonstrated with his signature aviators, but that might just be the point: In her path to prove herself relatable, she's joining in on the never-ending "pantsuit" jokes. And proving, more surprisingly, that she understands the value of a good #OOTD Insta.
It's also just a self-aware joke from a presidential candidate who has had to endure a lot of actual sexism over her appearance. Either way, like Biden and his slightly over the top sunglasses, Clinton is owning her own image, which is a savvy move in what will probably be one of the most-covered races in American electoral history.
Of course, Clinton haters have leapt on the Instagram post already. Solo female Republican presidential candidate Carly Fiorina released a statement in response to the post, somewhat incoherently lampooning Clinton's "hard choices" (a reference to her book title) as limited to "which pant suit to wear":
Update, 6/10/2015 at 3:35 p.m.: This article has been updated to include Fiorina's statement.