8 Historic Concerts You Can Watch Online Right Now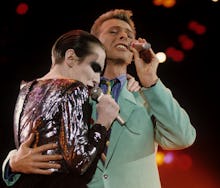 The Internet has a wealth of concerts, but it can be next to impossible to wade through the options. Places like Netflix and Hulu carry the classics, like The Last Waltz and Gimme Shelter, while random YouTube pages carry snippets of concerts. But somewhere in the middle are hidden gems — complete nights from historic moments in music.
From the Beach Boys to Rage Against the Machine and B.B. King to Nirvana, here are eight historic shows available at your fingertips:
The recently deceased blues legend made his debut on Austin City Limits in 1983, a performance that went on to become a classic. According to Guitar Player, it was rare in the early '80s — let alone today — for a blues musician to play for an entire hour on national TV. 
"There was electricity in Studio 6A that night like no other," Terry Lickona, ACL executive producer told Guitar Player. "It was pure B.B. — just him, [his guitar] Lucille and one of the best road bands he ever toured with. He mixed up hardcore blues with Elvis ballads and had the audience in the palm of his hand, following his every lead. It was historic!"
This Nirvana show is widely considered one of the best rock concerts of all time. It was recorded at the festival in England two years before lead singer Kurt Cobain's death. 
"Watching Kurt Cobain radiate so much life is bound to trigger some tears," Entertainment Weekly wrote of the show. "But the state you're most likely to be transported to is one of holy joy, best personified by the crazed guy dancing blissfully on stage for most of the show."
This Beach Boys performance is referred to as the "Lost Concert," because the footage was lost for 35 years and wasn't unearthed until 1998. Though the set is relatively short, it's a rare performance that shows the original Beach Boys lineup at the height of their fame.
This RATM set was one of the only highlights in an otherwise disastrous Woodstock '99. Their performance, according to Rolling Stone, came on the second night of the festival, sandwiched between Limp Bizkit and Metallica. At the end of RATM's final song of the night, "Killing in the Name," the band burned an American flag onstage. 
"For me, Woodstock '99 was the low point of nu metal," guitarist Tom Morello said in the documentary, Louder Than Hell, according to Rolling Stone. "The rapes in the pit, the trashing of the sites. It just seemed like it distilled the worst elements of metal — the misogynist jock buggery — and the message wasn't announced as, 'This is a horrible thing.' 
"It was more like, 'This is our new Woodstock generation — [a] bunch of idiots.'"
This performance, arguably the best of his late career, shows a post-Velvet Reed back home in New York's Greenwich Village, just after the release of his album, Legendary Hearts. It's Reed at his most engaging and loose as he plays songs ranging from "Sweet Jane" to "Waves of Fear," though the set is noticeably missing "Heroin." 
The New York Times wrote in their review, "As the man himself once put it, 'I do Lou Reed better than ANYBODY,' and this live video shot at New York's Bottom Line club makes good on that boast."
Five months after Mercury's AIDS-related death in 1991, the remaining members of Queen held this massive tribute concert in his honor. Proceeds from the event at London's Wembley Stadium — which attracted an astounding 72,000 people — benefited the Mercury Phoenix Trust. Queen members Brian May, Roger Taylor and John Deacon were joined onstage by megastars including Elton John, Liza Minnelli and George Michael.
In the early '80s, CBGB was the place to be in New York City. The club was a punk-rock institution that helped bands like Blondie, the Ramones and Talking Heads become household names. One of those bands were early punk pioneers Bad Brains, who, by the early '80s, were regulars at the dive. 
This clip of their 1982 performance at CBGB was on Christmas Eve, which, according to NPR, "meant to showcase a new, heavier form of punk rock that fans were just starting to call 'hardcore.'" The show was a turning point in punk-rock history.
At this incredible vintage BBC performance, a post-Buffalo Springfield Young debuts "new songs" like "Old Man," "Out on the Weekend" and "Heart of Gold" that would show up one year later on perhaps his most famous solo album, Harvest. It was the album that, according to Rolling Stone, "made the hippie singer-songwriter a superstar."