Another Close Associate of Mike Huckabee Was Twice Accused of Child Molestation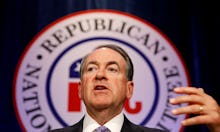 Former Arkansas governor and 2016 presidential candidate Mike Huckabee has found himself embroiled in yet another controversy surrounding child molestation after evidence emerged the co-author of two of his books had been accused of the crime.
According to a sworn affidavit from divorce records, John Perry, whose credits with the governor include Do the Right Thing: Inside the Movement That's Bringing Common Sense Back to America and Character IS the Issue, engaged in "inappropriate marital conduct," which appears to have been a euphemism for the alleged child molestation, BuzzFeed reported.  
"The alleged sexual battery was reported to have occurred when the victim was between the ages of 11 and 14," Nashville Police Department spokesperson Don Aaron told BuzzFeed.
A 2012 police investigation into the matter found the charges to be credible, but no legal action could be taken because the statute of limitations had expired. 
It was unclear Thursday whether Huckabee had been aware of the charges against his former associate. Nevertheless, the revelation underscores a deep and troubling soft spot the governor appears to have for sexual predators. When news broke last month documenting charges of child molestation against Josh Duggar, a star of the former TLC reality show 19 Kids and Counting, Huckabee, a friend and fellow Christian conservative, was one of the the most high-profile public figures to come to his defense. In a long Facebook post, the former governor defended Duggar, saying "good people make mistakes." 
Further back into the governor's career is the matter of Wayne Eugene DuMond, who was convicted of raping a high school cheerleader. Partly through Huckabee's efforts as governor, DuMond was paroled and ultimately went on to rape and kill again. Huckabee wrote to the convict, "My desire is that you be released from prison." The matter was a considerable issue during Huckabee's last presidential run in 2008.
The news also highlights the glaring hypocrisy of a man who casually keeps the company of child molesters while also saying "Jesus wept" at the idea of gay marriage and joking that denying transgender rights was just a matter of "common sense." On the subject of common sense, why both Duggar and Perry can escape punishment for their heinous crimes simply because they happened a long time ago might be a better question to ask.