Zendaya Just Shut Down a Sexist Twitter Troll in the Best Possible Way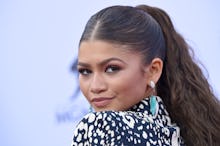 Much of the discussion surrounding celebrities and feminism is just that: talk. But one star who's not afraid to put her words to action? Zendaya, who lashed out at the Twitter account Manstagram on Wednesday.
Manstagram is known for its gratuitous, sexist commentary: It's referred bitterly to the "friend zone," called women "bitches" and regularly tweets objectifying, sexist comments. In addition to these delightful more general contributions of sexism, the account also targeted the popular YouTube beauty vlogger Shannon. 
"This is why our first date is running a mile around the track to see if you sweat off the makeup," Manstagram tweeted, accompanied by an image of Shannon with and without makeup for demonstrations in her videos.
Zendaya refused to silently allow the account to perpetuate these attitudes and exposed their sexism to her millions of followers. "This tweet is irrelevant cause she's slaying both ways," she tweeted in response.
Women standing up for other women: This is hardly the first time Zendaya has called others out on social media. In February, the star schooled E!'s Giuliana Rancic for insulting comments made about her appearance, for example. 
Still, Zendaya wasn't the only one to push back on the account's objectifying comment. Plenty of other Twitter users responded to the post and supported Shannon too. 
Shannon herself thanked Zendaya, and in doing so, pointed out why it was so important she did.
Each of these stars have formidible Twitter followings between them. The impact of seeing two high-profile women support each other and eschew sexism cannot be underestimated, and is hopefully an example that inspires others to follow suit.
h/t BuzzFeed