Leon Bridges' New Video Proves He's About to Be a Soul Legend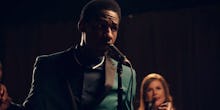 Leon Bridges, the Texas-based soul musician who's gaining attention in mainstream music, just released his latest video. In "Smooth Sailin'," off his forthcoming album, Bridges channels his best throwback and brings the song out swinging. His highly anticipated debut album, Coming Home, is due out June 23, and the latest single proves Bridges is going to be a really big deal. 
Every song the 25-year-old has debuted off Coming Home — "Better Man," "Coming Home," "Lisa Sawyer" and "River" — has been a tour de force of smooth soul. But mere months ago the singer-songwriter was washing dishes in his hometown of Fort Worth, Texas. 
"It's been crazy, way faster than I expected," Bridges told the Minneapolis Star Tribune. "I knew I had a gift. I wanted the world to hear my music, and I wanted it to be my career, but I didn't know how to go about it."
Listeners laud his sound as reminiscent of the legendary Sam Cooke, which is high praise — and sets up high expectations — for a musician who's as green as they come. Bridges' response? Bring it on. 
"I'm ready," he told the Star Tribune. "I think if I work hard, it'll go well. I've always had a great work ethic even when I was washing dishes. And obviously, this beats washing dishes."