Kacey Musgraves Just Released the Video for the Next "Follow Your Arrow"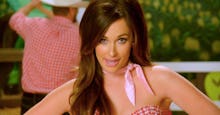 It's hard to imagine Kacey Musgraves repeating the wild success of "Follow Your Arrow," but that's exactly what her new song "Biscuits," the video for which she just released, is set to do. It's yet another powerful progressive anthem. The country star sings, "Just hoe your own row and raise your own babies / Smoke your own smoke and grow your own daisies / Mend your own fences and own your own crazy / Mind your own biscuits and life will be gravy." It's a damn catchy song with an adorable video to boot. 
Musgraves is known for being one of the more progressive musicians in a traditionally conservative genre. Her LGBT country anthem, "Follow Your Arrow," staged a big upset at last year's Country Music Awards when it won Song of the Year. 2014 marked a big year for progressive politics in country music, with artists like Musgraves, Miranda Lambert and Brandy Clark garnering mainstream attention for music supporting women's and LGBT rights.
"Do you guys realize what this means for country music?" Musgraves asked the crowdupon winning at the CMAs.
But it hasn't been all biscuits and gravy since then. In late May, radio consultant Keith Hill told Country Aircheck Weekly, "If you want to make ratings in country radio, take females out. The reason is ... women like male artists. I'm basing that not only on music tests from over the years, but more than 300 client radio stations. ... Trust me, I play great female records and we've got some right now, they're just not the lettuce in our salad. The lettuce is Luke Bryan and Blake Shelton, Keith Urban and artists like that. The tomatoes of our salad are the females."
Country musicians and music journalists were outraged at the brazen revelation of the latent sexism and conservatism in country music industry. That's why Musgraves' new song is more important than ever before, lest country music devolve to its Dixie Chicks-shaming days. As Musgraves sings on her hopeful, progressive single, "If you ain't got nothin' nice to say, don't say nothin' at all."