9 of Christopher Lee's Most Impressive Roles to Remember Him By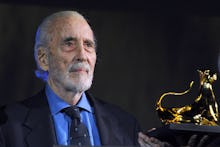 Actor Christopher Lee died Sunday morning, the Independent and other outlets are reporting. He was 93.
A British actor with an incredible work ethic, Lee was widely admired for continuing to push himself long into his life. He once said he could never fathom retirement. "Making films has never just been a job to me, it is my life," he said, according to Guardian Liberty Voice. "I have some interests outside of acting – I sing and I've written books, for instance – but acting is what keeps me going, it's what I do, it gives life purpose."
Commemorating his work post-mortem is a blissfully difficult task. It would be nigh-impossible to talk about all his film and TV roles: His IMDb page lists 281 acting credits. That "anything goes" approach informed his philosophy as an actor in one of his most famous quotes.
"Every actor has to make terrible films from time to time," he said. "But the trick is never to be terrible in them."
Below are but a few drops in the bucket of all the times Lee was never terrible. These are just a few of the roles we'll remember him by.
Dracula
Lee is perhaps the most iconic Dracula, having appeared as the count in nine different movies. The first, Horror of Dracula (as it was titled in the U.S.) was released in 1958. He continued playing the role into the '70s. The films were produced by Hammer Film Productions; Lee got involved after he played Frankenstein's monster in the studio's film The Curse of Frankenstein.
Saruman
If Lee had his way, he'd be remembered as a whole other character from the Lord of the Rings. "At the time I read it, I wanted to play Gandalf. Who wouldn't? But they thought I was too old," he said in an interview with Total Film. "So I played Saruman, which is in many ways immensely important because Sauron is just an eye, so Saruman is the one and only total adversary of the Fellowship."
Nazi hunter
No, Lee never played a Nazi hunter on screen — he played one in real life. At the end of his service in the British military, he served as an officer in the Central Registry of War Criminals and Security Suspects. His job was, quite literally, to hunt Nazis, tracking down criminals associated with Hitler and the Nazi movement. Lee was truly badass, on and off screen.
Bond villain
"Ian Fleming was my cousin and he wanted me to play Dr. No," Lee told Total Film. "But by the time he got around to remembering to tell the producers, they'd already cast someone else." He had to settle instead for the titular villain of The Man with the Golden Gun, Francisco Scaramanga. Instead of playing him as written in Fleming's book, as "a West Indian thug," Lee gave him a suave quality. "I played him like the dark side of Bond."
Death metal rocker
Between hunting Nazis and being a death metal rocker, it's hard to determine which of Lee's extracurricular activities was wilder. While he sang in other genres too, including a cover album called Revelation, his most infamous musical work was on the 2010s Charlemagne albums. The second, Charlemagne: The Omens of Death, was released when Lee was 90. How many 90-year-old death rockers do you know?
Muhammad Ali Jinnah
Lee is on record saying his work in Jinnah, a biopic about Pakistan's founder, is his most vital — and most underseen. "The most important film I made, in terms of its subject and the great responsibility I had as an actor was a film I did about the founder of Pakistan, called Jinnah," he told the BBC. "It had the best reviews I've ever had in my entire career — as a film and as a performance. But ultimately it was never shown at the cinemas."
Saturday Night Live host
Lee called hosting SNL "without doubt the most hilarious experience I've ever had." He worked with some of the legends of the show: John Belushi, Bill Murray and Dan Ackroyd. "SNL was also the most important thing I've ever done in my career, because people like Steven Spielberg were in the audience, thinking, 'Hang on. This man can be funny!'" he told Total Film.
Count Dooku
After Lord of the Rings, Lee was cast as the villainous Count Dooku in the second and third Star Wars prequels. Most impressively, he did all his own lightsaber work for the film. "For the lightsaber fights, everything from the waist up is me, but I was doubled for long shots – I couldn't do the running. I was 80!" he told Total Film. "I said to George Lucas, 'I can do the swordfighting, but I can't run!'"
The Wicker Man
While Lee may be most recognizable to modern audiences from credits like Star Wars and Lord of the Rings, he always considered the tops of his career to be the horror film The Wicker Man, in which Lee played the lord of the island where the story takes place. "I've always said it's the best film I've ever made," he told Total Film. It's easy to see why he's proud: The Wicker Man is so good it's been called "the Citizen Kane of horror movies." 
It is one of the many credits on Lee's resume that will live on as part of his stellar legacy. Rest in peace, Lord Summerisle, Francisco Scaramanga and Dracula. Rest in peace, Sir Christopher Lee.