Watch Kendrick Lamar and Tupac Talk to Each Other in This Amazing Video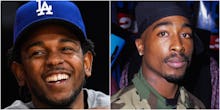 Kendrick Lamar's recent album To Pimp a Butterfly concludes with a conversation between the rapper and his idol, Tupac Shakur. Reconstructed from old recordings of the late rap icon, the conversation captures the striking moral and political kinship between the rappers. On Tuesday, pop culture outlet Konbini took that fruitful exchange a step further by attempting to bring the two West Coast legends face-to-face.
The site brought Kendrick in for an interview, but instead of asking the questions themselves, they put him in dialogue with old clips of Tupac. The conversation only deepens the sense of kinship that exists between the West Coast legend and the legend-to-be.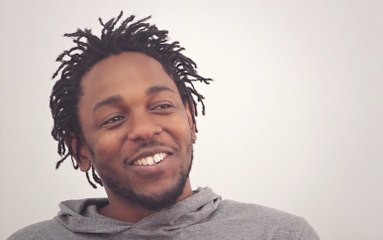 In Konbini's video both Lamar and Shakur get a chance to wax poetic about the state of hip-hop, misogyny, politics and love. Tupac relays his oft quoted mantra that rappers have to take more responsibility for their lyrical content — something with which Lamar strongly agrees.
"Sometimes you get a lot of artists that just glorify [violence] so these kids look at like it's nothing but cool, until their back is against the wall and it's all over," Lamar says. He says he believes this impulse to carry on Shakur's sense of lyrical responsibility is what separates him from the rest of the pack: "I'm going to give you the gift and the curse." 
That dualistic approach is all over To Pimp a Butterfly and throughout Lamar's whole catalogue. It's a realism and honesty that binds him and Tupac across time. Their dedication to capturing the heart of the matter and to escaping dogmatism is what truly unites them — more than their shared Compton upbringing or their West Coast sound.
In one of the final sections of the interview, Lamar listens to a snippet of Tupac's "Changes." "That's one of my favorite joints," Lamar says, grinning. He uses the moment as an opportunity to offer his interpretation of the song, and to reiterate To Pimp a Butterfly's themes of self-love and respect.
"It's hard to know what respect is," Lamar says. "We so focused on what the outside is doing to us, stumbling upon us, putting hurt upon us. We forget that if we're stronger on the inner core, ain't nothing nobody else can do. You can't break something that's so solid if the core is solid, if the foundation is there."
Through their music, Tupac and Lamar both seek to uplift their communities. Lamar has been translating this message into every move he makes; he's been visiting schools, celebrating his fans, penning inspiring essays and more. It's a message he got from from 'Pac himself. Thanks to Kendrick Lamar, Tupac's legacy is more alive now than it has been in years.