J.K. Rowling to Publish New Book 'Career of Evil' as Robert Galbraith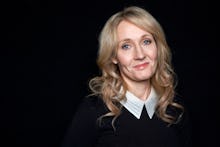 J.K. Rowling is putting on her Robert Galbraith mask one more time.
As previously announced in April, Rowling's male nom de plume has been hard at work on a third installment in his — er, her? — Cormoran Strike series that started with The Cuckoo's Calling. Titled Career of Evil, the new book will hit stores this fall. Rowling announced the news in a tweet, her favored method of communication, sharing the book's cover as well.
"When a mysterious package is delivered to Robin Ellacott, she is horrified to discover that it contains a woman's severed leg," the book's press page reads. "Her boss, private detective Cormoran Strike, is less surprised but no less alarmed. There are four people from his past who he thinks could be responsible — and Strike knows that any one of them is capable of sustained and unspeakable brutality."
The book lives in the same universe as The Cuckoo's Calling and its sequel Silkworm, both also released under the Galbraith name. Rowling caused a stir in 2013 when she was unmasked as the author behind the mysterious name.
"It has been wonderful to publish without hype or expectation and pure pleasure to get feedback from publishers and readers under a different name," she said at the time about the choice to take a pseudonym.
She may not be able to avoid the hype anymore, but Rowling can take comfort in knowing she's got a devoted fanbase hanging on her, or in this case, Galbraith's every word.
Career of Evil will be published in the U.S. on Oct. 20.
June 12, 2015, 9:41 a.m.: This post has been updated.