Listen to Republican Sen. Mark Kirk Call Lindsey Graham a "Bro With No Ho"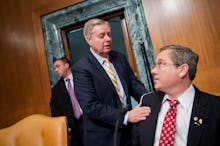 Sen. Lindsey Graham (R-S.C.) is the only bachelor in the 2016 presidential field. If he were to trump the odds and seize the Republican nomination and White House, he would become the first commander in chief since Grover Cleveland in 1885 to arrive at 1600 Pennsylvania Ave. without a first lady by his side.
This detail has apparently not escaped his colleagues' attention. In an audio recording obtained and published Thursday afternoon by the Huffington Post, Sen. Mark Kirk (R-Ill.) can be heard describing Graham as "a bro with no ho."
Listen to the clip below. Kirk begins his commentary in a whisper, but his voice becomes quite clear at the :27 mark: 
"Did you see that?" Kirk says to a colleague at the top of the clip. "He's going to have a rotating first lady. He's a bro with no ho."
Kirk, who faces a tight re-election race in 2016, was referencing comments Graham made earlier this week when the Daily Mail asked the unmarried and unattached candidate who might fill the void.
"Well, I've got a sister, she could play that role if necessary," Graham said, before cheekily adding, "I've got a lot of friends. We'll have a rotating first lady."
Asked for comment by the Huffington Post, Kirk's office said the senator was simply "joking around with his colleagues." It's hard to imagine there's much laughing today among his campaign staff.