This "Sex Party" Is a Positive Game-changer for People With Disabilities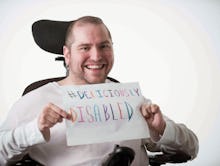 Disability and sex can party together.
That's the message behind a Toronto sex event, set for August 14, that looks to be the first-ever play party accessible to people with disabilities. 
The event, called Deliciously Disabled, will be a masquerade-themed play party including music, a sex toy workshop, food and drinks — and, if individuals so choose, nudity and sexual activity. (A play party, for the unfamiliar, is a social event in which attendees are encouraged to "engage in public sexual or kink behaviors.") 
To make that happen, event organizer Andrew Morrison-Gurza told Mic, the event is thinking through all the details: a patient lift for individuals in chairs, admitting personal support workers for free, having ASL interpreters on hand. "We're doing our best to make it as accessible as possible," he said. 
Because sex and disabilities aren't mutually exclusive. 
"The biggest myth is that we're not sexual, can't have sex and don't want to have sex," Morrison-Gurza said. "This event totally turns that idea on its head. What I'm so proud about this event is that it puts disability, sexuality and sensuality at the forefront and it says 'Anybody with a disability, we see you. We see you for you, all you are.'"
"Taught that we're not sexual": While it's been billed as an "orgy" by many media outlets, Morrison-Gurza points out that the party is part of a much bigger movement that's changing the conversation about people with disabilities and sex.
The 2013 documentary The Last Taboo frankly examined the everyday sexual experiences of those living with a disability. Cosmopolitan recently showcased the stories of women with disabilities who, despite their conditions, were very much interested in having sex. Resources like the site Sexuality and Disability are helping persons with disabilities navigate sex, relationships and having children, as well as providing expert advice on personal questions.
It's a sea change that couldn't come soon enough, said Morrison-Gurza. "I think people with disabilities are taught in our society that we're not sexual, we're not sexy," he said. "I have met a lot of people with disabilities who have low self-esteem and who don't see themselves as sexual beings. I don't like to separate able-bodied versus disabled. That's a huge problem."
Morrison-Gurza himself is part of a movement, also called #DeliciouslyDisabled — which he coined after posing naked for a local Toronto magazine — that focuses on such positive messages. "I just put two words together that are never supposed to go together to describe people with disability in a sexy, fun way. [Disability is] always mired in pity, inability or lack of access. This embraces every part of disability and says 'Let's go from there.'" 
"This is about more than getting off": If a sex party may make for a flashy headline, that's the whole point. For one, a play party can present those with disabilities with an opportunity they might not typically have. "This opens the door up to a great opportunity where people with disabilities can experience sex in a safe environment, if it is not so easy in other situations," Alexander Freeman, director of The Last Taboo, told Mic.
But it also has the power to shift our perceptions by simply associating people with disabilities with sex itself.
"This proves that people with disabilities can have sex and need to have sex in order to really know themselves deeply and feel great about themselves," said Freeman. Which is the whole point, Morrison-Gurza said.
"This is so much more than just sex," he continued. "This is about more than getting off. The point is to allow access and say to those with disabilities and those who want to be at the party, that you're welcome here."