Meet Divya Nag, the Millennial Woman Shaking Up US Medicine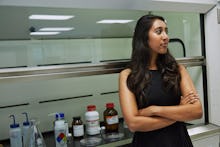 On the phone, Divya Nag sounds like a typical 20-something. She likes to travel and paint, and she calls cultural architecture her "Achilles heel." The 24-year-old Nag, however, is anything but ordinary. 
Today, the millennial and college dropout sits at the helm of two companies she helped found that are revolutionizing the medical industry in the United States. For her innovative work in the medical field and helping to bring down barriers for women in STEM, Nag is one of the inaugural recipients of the Mic 50 award, recognizing emerging millennial leaders who are making an impact and shaping the future. (Check out the full list at Mic50.com to explore all the amazing honorees!)
"I started this first company, Stem Cell Theranostics, back in 2011," she told Mic. "Stem cells were the sexy topic."
Sexy or not, the goals of SCT are extraordinarily ambitious, and the roots of its creation, oddly enough, can be traced back to George W. Bush. When the former president banned almost all human embryonic stem cell research in 2001, researchers were forced to explore other avenues. With their potential to take on the form of any cell in the body, stem cells had been (and still are) an enormously promising research avenue. So Nag and her team zeroed in the potential of stem cells derived from less controversial skin cells to achieve the same purpose.
"We would take these stem cells we created from the skin cells and turn them into heart cells on a dish," she told Mic. "They're your own cells, there is no risk for your body to reject them."
With her company underway, however, Nag soon found something striking. "It was amazing how few people from Stanford ... were actually starting companies in the medical space," she told Mic, adding that the unique challenges of a medical startup, like dealing with the FDA, made ventures like hers less attractive for potential entrepreneurs. 
It was this insight that led her to develop her second idea, StartX Med, a nonprofit medical entrepreneurship program for Stanford students and alumni. "The idea is really to create a community for these medical entrepreneurs," she said. "You don't have to be an MBA to start a company."
For Nag, straddling the intersection of medicine and business did not come easy. To follow her vision, she had to drop out of Stanford at the age of 20 in order to dedicate herself to entrepreneurship full time. 
"[My parents] were totally mortified," she said of her decision to quit school, saying they agreed only on the condition that rigid goals were met and her progress was regularly tracked. "They have come around," she laughed.
Less fondly, Nag also recalled the unique challenges of a young millennial woman breaking into science, technology, engineering and math, fields traditionally dominated by men. "I had to bring, like, male co-founders into [investor] meetings," she said. "People didn't take me very seriously."
Nag has no intention of resting on her laurels. Since leaving Stanford, she says she's never looked back and soon plans be leading the next big thing technology has to offer.
"I totally expect myself in five or 10 years to be a CEO," she said confidently, proving for all young people that a women's place is as the boss.