Bernie Sanders Just Laid Out What Real "Family Values" Look Like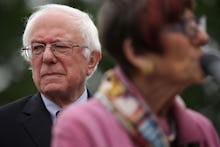 Democratic presidential candidate Sen. Bernie Sanders (I-Vt.) has a mission: He wants to wrest the issue of "family values" away from the Republican Party, which has had a stranglehold on the concept for decades.
In a press conference on Capitol Hill on Thursday, the self-described democratic socialist laid out his vision for what "family values" should actually entail, laying out three progressive proposals intended to guarantee workers time away from work. Sanders describes how having a minimum standard for time off for leisure or health is essential to protecting families from the socially corrosive effects of chronic overwork.  
"When you look at what other wealthy countries are doing, what you find is that the United States of America is the only advanced economy that does not guarantee its workers some form of paid family leave, paid sick time or paid vacation time," Sanders said in his statement. "In other words, when it comes to basic workplace protections and family benefits, workers in every other major industrialized country in the world get a better deal than workers in the United States. That is wrong. That is a travesty. And that has got to change."  
The policies: Guaranteed paid family leave, sick leave and vacation for workers are the crux of Sanders' family values agenda. Toward this end, Sanders announced that he's introducing the Guaranteed Paid Vacation Act, a bill calling for 10 days of paid vacation for workers who have been with an employer for at least a year. 
He also backed the Family and Medical Insurance Leave Act, a bill introduced by Sen. Kirsten Gillibrand (D-N.Y.), and said that workers should be entitled to 12 weeks of paid leave if "an employee has a child, is diagnosed with cancer or any other serious medical condition." 
"Every worker in America should be guaranteed at least 12 weeks of paid family and medical leave," Sanders' statement reads.
And on the matter of vacation, he called attention to the Healthy Families Act, which gives employees seven days of paid sick leave annually to be used for short-term sickness or routine medical care. He noted that the legislation would benefit up to 43 million workers who currently are not guaranteed paid time off for being sick.
"In my view, it is absurd that low-wage workers in McDonald's who get sick are forced to work because they cannot afford to miss work," he said in his statement. "Not only is this bad for the workers who are sick, it is also a public health issue."
Sanders' strategy here is smart. The Republican notion of family values centers on conflicts over the nature of marriage and abortion, a blend of conflict over cultural norms and civil liberties. But Sanders wants to take back the term to remind the public of the fragility of family life today under a heavily deregulated mode of capitalism. In the coming months, we'll see if the public finds it convincing.