Officer Involved in Tamir Rice Shooting Gets Recommended Murder Indictment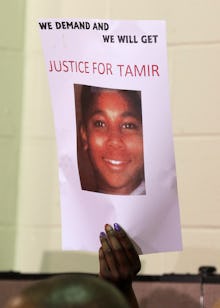 A Cleveland judge found probable cause Thursday to charge police officer Timothy Loehmann in relation to the shooting death of 12-year-old Tamir Rice in November 2014.
In his opinion, Judge Ronald B. Adrine argued Loehmann should face murder charges after he killed Rice in a public park. Rice had been carrying a toy gun but had otherwise been unarmed.
The decision came after activists brought forward an affidavit to Judge Adrine asking to find probable cause to arrest Loehmann and fellow officer Frank Garmback on a number of charges including aggravated murder, murder, involuntary manslaughter, reckless homicide, negligent homicide and dereliction of duty charges, Cleveland.com reported. 
The matter now falls to the city prosecutor's office to review the evidence and continue their investigation before bringing the case to a grand jury, a process that could take weeks if not months.
Rice's case drew national outcry against an aggressive police response to a call about a child waving a gun in a Cleveland park. The man who made the call told 911 dispatchers at the time he felt the gun was "probably fake," but the officers who responded did not receive the message.
NBC News reported:
Police said officers responded to a report of a person waving a gun around at a playground and that Tamir was shot after he allegedly refused to put his hands up and reached in his waistband for what appeared to be a handgun. The handgun turned out to be an "airsoft" replica toy gun, which shoots pellets in a similar way that a BB gun does. Cleveland police said in a statement that an orange marking designed to make the toys distinguishable from real firearms had been removed.
The case was one of a number of instances around the country in recent months where officers have responded with excessive and sometimes deadly force. In April, protests erupted in Baltimore in the aftermath of the death of Freddie Gray, who was violently arrested by police before dying suspiciously while in custody on April 19. The death was later ruled a homicide, and city prosecutor Marilyn J. Mosby brought charges against six officers. Last year, Eric Garner, a New York man, was choked to death on camera by a New York police officer while begging for air. Despite a public outcry, a grand jury declined to indict offending officer Daniel Pantaleo.