You Can Watch the Third Season of 'Orange Is the New Black' Right Now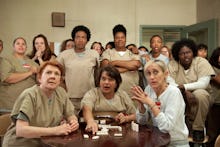 Thank the Netflix gods: Orange Is the New Black's new season has come early.
The season, set to drop Friday, suddenly appeared on Netflix Thursday evening, bringing Piper, Taystee, Sophia and more favorites back to fans six hours ahead of schedule. 
"Season 3 Is Out on Early Release," the show's description reads simply on Netflix. A tweet from Netflix's official account offers no more reasoning.
So what motivated the early release? According to the Hollywood Reporter, at a New York fan event for OITNB fans called "OrangeCon," series star Uzo Aduba prompted Netflix's CEO Reed Hastings to release the episodes early.
"One episode?" Aduba said, answering a question of how many episodes the fans should see early. "Two episodes? ... What if we showed them the whole season?"
This isn't the first time Netflix has dropped episodes of a beloved series early this year. Ten episodes of House of Cards hit the service early in February. That appeared to be a mistake, however, while this is more of a gift to fans who want to open their presents on Orange Is the New Black Eve instead.
The series is available to binge on Netflix now, but don't fear even if you watch it all too quickly: Orange Is the New Black has already been renewed for season 4.