Meet the Producer Behind the Scenes of the Hip-Hop Revolution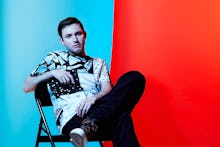 Hudson Mohawke, born Ross Birchard, is a shy Scottish 29-year-old white dude who's probably made you lose your shit in a club a couple times. As part of Kanye West's production collective, Birchard has had a hand in "Mercy," "Blood on the Leaves" and "All Day." His collaboration with producer Lunice as TNGHT spawned a viral subgenre of dance music, sometimes called "trap," with ferocious, sample-driven beats.
You'd never expect fame to come to Birchard. His career began with the weird and experimental Butter, put out on the avant-garde electro label Warp. But his love of dance music led him first to club recognition and then to something more: A London hotel room where, he told Mic, he played about 10 beats for Kanye West and his creative inner circle. They were blown away, which led him to a permanent spot in Kanye's production crew and, most significantly, a defining role in the creation of Yeezus.
Since that moment, Birchard has enjoyed the it-producer status of a young Kanye. Soon, every outlet was writing about him. "Kanye West's go-to guy is changing the face of pop" reads one Guardian headline; "This (And This... And That Too) Is a Hudson Mohawke Production" reads Pitchfork's. With his new release, Lantern, Birchard is coming into his own as an independent creative force. A moment long anticipated has finally arrived.
Mic spoke to Birchard on the phone ahead of the release to find out more about his process, influences and philosophy about social media.
Mic: I know you're a fan of [comedians] Tim and Eric. You got Eric to MC your Boiler Room show. I find some of your music has their ironic sense of humor. Do you mean it to be funny?
Ross Birchard: It's not meant to be overtly humorous music, no. But if you approach your music with total seriousness, if you have a steadfast idea of exactly what your music should be and exactly the context, then it ends up not being very fun. So there's a necessary tongue-in-cheek factor in my music.
Mic: Jamie XX says he futzes around with his tracks until something sounds good. Do you go in with a clear idea of what the composition is going to sound like? Or are you more experimental?
RB: I don't think anyone has an idea of what a composition will sound like going in, unless you feel tied to a particular structure, like if you have to make a crowd react in a certain fashion. Outside of that, it's useless to approach music with a preconceived idea or structure. It has to be something that's heartfelt.
Mic: If you want to make an EDM festival crowd go crazy, you have to include a drop.
RB: There's quite a regimented structure as far as that particular genre of music — it's particularly designed to work the crowd. To be fair, I don't want to call anyone out, because it's the background I come from. That's the music I grew up listening to, and I still really enjoy it. If I happen to be at a festival and there's an EDM stage, then I will absolutely go see whoever's playing on that stage. It's fun to see that sort of shit. It's just not necessarily what I want to incorporate within my own music.
Mic: With Lantern, were you trying to distance yourself from hip-hop production because that's what you're most known for?
RB: I wouldn't use the term "distance." It's not something that I dislike; it's something that I absolutely love. I absolutely love hip-hop, I absolutely love the TNGHT project. Both of those are still elements of my approach to production. They're nothing I'm ashamed of, but they're things that people have discovered me off the back of, and they don't know there's another side of my production. Having garnered the attention off the back of some rap stuff and the TNGHT project, it's time to introduce people to what my background is originally. There's been a bunch of articles published recently where people referred to Lantern as my solo debut. Prior to TNGHT or mainstream rap work, I had three, four, five records out.
Mic: You have a few tracks with singers on this album, like Miguel, Jhene Aiko, Antony. How was producing for singers rather than rappers?
RB: I've done it before, but I've never been all that comfortable doing it. The experiences that I've had in the last couple years of collaborative work informed how I approached this record. Whereas in the past I might've been like, "Here's the instrumental, can you record some vocals?" Instead it's like, "Do you want to fly to London and make some songs together?" That lets us bounce ideas off one another. That's something that wasn't always first nature to me. I really enjoyed working in private.
Mic: Was that process something you learned working with GOOD Music?
RB: Yeah, because there are so many people involved in those projects. From day to day there's an entirely different crew. You have to know how to work with someone from off the back of nothing. You get thrown into the deep end, and you have to know how to make sure there's a vibe and an atmosphere, that it's not just collaborating for the sake of it. That's definitely not something that happens right away. It takes a long time to gather that experience.
Mic: I read about your first meeting with Kanye at that London hotel, where you sheepishly walked in with your jacket still on and played a couple demos and they lost their shit. I'm really curious what songs you played.
RB: Oh, I can't even remember. I know that basically I went there with probably 100 beats, and I played about 10. I just had no concept of how that world worked at that point, especially not in London. I knew people within the rap world in London, but it's a whole different world from A-list U.S. acts. The beats I played were the ones that ended up becoming one off Cruel Summer and various tracks forthcoming with Pusha [T] and a number of other things. That was a pretty eye-opening experience for me.
Mic: It seems like that connection [between underground producers and stars] is happening more and more now. Because of SoundCloud and stuff, young talent is able to be discovered much more easily now.
RB: Yeah, that gap between what's considered "underground" and what's considered overtly mainstream is just nonexistent now. It's super exciting, because you have people who are some of the biggest artists in the world, and you'd never expect them to have heard a song by such-and-such artist and then you find out that they're totally familiar with all their songs, and it's like, what the fuck? How do you know them? So it's a really exciting time.
Mic: For hip-hop this year, it's been great release after great release, from Kendrick, Drake, Big Sean, Earl Sweatshirt, Tyler. And then you have releases coming from Kanye, another from Drake. You've been involved with some of those. It's kind of a standout year, no?
RB: Yeah, this year so far, I'm very happy that on all the records that are touted as the more mainstream records, even though they have quite bizarre production involved, they're still being listened to by a wider audience. I think that's fucking amazing. To be honest, like the Earl record and the Tyler record: You put that record out 10 years ago and it'd be relegated immediately to the depths of underground backpack rap. The fact that that can be accepted by a wider audience in general is amazing.
Mic: Do you also scroll endlessly through SoundCloud, or how do you discover new music?
RB: I do a bunch of SoundCloud stuff. It's funny because I'm on Twitter a lot, and only recently someone was like, "By the way, you know you have like twice as many followers on SoundCloud as you do on Twitter." I always thought Twitter was my main connect. I don't really fuck with Facebook or anything like that. I don't really do Instagram, that type of shit. So yeah, I guess I'm getting more into it. I didn't realize that it's such a huge, huge place.
"I don't really fuck with Facebook."
Mic: What are some of the lesser-known artists that you're most excited about?
RB: I'm most excited about some of the hip-hop acts. Like, even some of the older guys are being really slept on. It's quite often that I ask them to come do support when I have a New York show or something like that. I did a New York show two weeks ago and we had Remy Banks and World's Fair, who are super exciting to me at the moment. I'd say Roc Marciano is one of my favorites, even though he's like mid- to late-30s, that's one of my favorite, straight raw rap music makers. That's one of my favorite dudes. He supported me last year at one of my New York shows. A bunch of guys like that, like KA as well. Those dudes, who are unafraid to be doing straight raw rap shit, basically. I'm a fan of that stuff.
This interview has been edited and condensed for clarity.