An NAACP Leader Has Been Pretending She's Black, but Her Parents Just Said She's White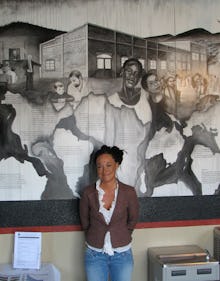 Local NAACP president for the Spokane, Washington, chapter and Eastern Washington University part-time Africana Studies professor Rachel Dolezal has been posing as a black woman when she was, in fact, born white, according her Caucasian parents. Larry and Ruthanne Dolezal said they'd been aware of their daughter's falsifying her race but did not speak out on the matter until the media contacted them, at which point they were also able to produce her birth certificate.
"She's our birth daughter and we're both of European descent," her father told BuzzFeed News on Thursday night. "We're puzzled and it's very sad."
"It's very sad that Rachel has not just been herself," Ruthanne, Rachel's mother, told the Spokesman-Review. "Her effectiveness in the causes of the African-American community would have been so much more viable, and she would have been more effective if she had just been honest with everybody."
KREM reporter Taylor Viydo tweeted this "before and after" picture of Dolezal, in which she appears visibly white and blonde-haired as a child.
Dolezal was also interviewed on Thursday by KREM 2 News, in which she said she didn't regard Ruthanne and Larry as her real parents, despite being her biological parents. 
When directly asked about the allegations she's been lying about her race, she avoided the answer. 
"I can understand that. And like I said, it's more important to me to clarify that to the black community, and with my executive board, than it really is for me to explain it to a community that I quite frankly don't think understands the definition of race and ethnicity," she told KREM 2 News.
Serious questions regarding Dolezal's race came to light after she reported a hate crime, for at least the eighth time, claiming someone had sent her a threatening, racially-charged package. However, local police could not find any DNA or fingerprints and, coupled with the lack of a stamp, determined someone with a key to her post office box had to have put it there. 
In an even stranger twist to the story, Dolezal's parents say she is pretending her adopted black brother, who went to live with her in 2010, is her son. She became the guardian of her brother, Izaiah, when he opted to live with her; however, Larry Dolezal and his wife are still legally Izaiah's parents. 
Exploiting her alleged race, repeatedly. Dolezal has a long history of trying to use her alleged race to her advantage when fitting. In her application for the chairwoman of the Office of Police Ombudsman Commission, a position she currently holds, Dolezal claimed to be Native American, black and white. 
In an interview with the Easterner in February, Dolezal claimed she was born in a tepee in 1977. "As a child, Dolezal and her family hunted their food with bows and arrows," Shawntelle Moncy reported after interviewing her. Yet, Ruthanne says their family has no more than distant and faint Native American lineage. 
In the same interview, Rachel claimed she also grew up in South Africa, where her mother and stepfather would punish her and her siblings according to the darkness of their skin, using a "baboon whip," which was "pretty similar to what was used as whips during slavery."
She also alleges Ku Klux Klan and neo-Nazis in Idaho resisted her social activism. 
Dolezal's tale became even more serious when, for an NAACP ceremony, she got a black man to pretend to be her father.
In other Facebook posts, which have since been removed, Dolezal posted pictures of herself with her "natural curls" and said the movie audience in 12 Years A Slave turned to her for a "black reaction." When asked by a KXLY4 reporter in one on-camera interview if she was black, she awkwardly dodged the question.
The future is white. It looks as though Dolezal's charade is now over and she will return to being Caucasian. Spokane City Hall is being investigated to assess if there was any wrongdoing on their part. 
"We are gathering facts to determine if any city policies related to volunteer boards and commissions have been violated," said Mayor David Condon and Council President Ben Stuckart in a statement. "That information will be reviewed by the City Council, which has oversight of city boards and commissions."
It's probably safe to say her future at the NAACP is uncertain, too. 
Update: Friday, June 12 11:13 p.m.