Here's Kim Kardashian's 9-Year-Old Myspace Page — It's Even Funnier Than You Think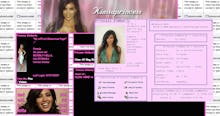 The Internet is forever, and thank God: Without it, we wouldn't have access to the exquisite mid-aughts goldmine that was Kim Kardashian's bright-pink, Comic Sans-infused Myspace page.
It sounds too good to be true, but Us Weekly dug up the middle Kardashian's account from 2006. It's a doozy: almost entirely pink, lacking any mention of Keeping Up With the Kardashians and full of references to herself as a princess.
According to Us Weekly, the queen of social media only had 856 friends and 73 comments on her page — probably fewer than you did when you were in high school. 
"Princess Kimberly," as she called herself, was apparently in a relationship at the time and looking simply for "friends." Sadly, she did not include Tom in her top eight — but she did add ex-boyfriend Ray J, with whom she starred in her now legendary 2003 sex tape. You'll also find sis Kourtney, brother Rob and stepbrother Brody Jenner.
But it doesn't end there. Thanks to the magic of the Wayback Machine — the "Internet archive" that catalogs old versions of webpages — we can painstakingly track how Kardashian's Myspace page changed over time. From her pre-sex-tape days to her meteoric rise to the top of the reality television kingdom, she's come a long way. 
By August 2007, Kardashian had racked up over 66,000 friends — a sharp increase from her 2006 number. We'll never know exactly what occurred to prompt the spike, but we can venture a guess.
Note the Comic Sans:
She was listed as single, and her interests included "baking sweets, kissing, eating sweets, oh and cars!" She described her occupation as "princess," and she reported she would like to meet "God and [her] soulmate." (Paging Kanye West!) 
Here's a look at her top 12 friends, including Serena Williams and Aubrey O'Day: 
She had about 4,000 comments on her page: 
2008
By December 2008, Kardashian's Myspace game had improved considerably. Her friends list had ballooned to nearly 3 million, and her list of interests had expanded to include "marshmallows and Mexican candy." The Comic Sans of 2007 was gone, replaced with flashy animations, splashy wallpaper and black-and-white glamour shots.
Her occupation was still listed as "princess" — not far off, as it turns out: Keeping Up With the Kardashians debuted in October 2007 and went on to make Kardashian a household name. 
A blog post from September details her rehearsals for Dancing With the Stars:
October 2009 marked a departure: Her Myspace background was no longer plastered with photos of herself. Instead, she opted for a more low-key look: 
Though she was up to 3.5 million friends, people still attempted to contact her via Myspace. "Happy Halloween how is da family," Sheila wrote Nov. 1. "Happy Halloween Kim and tell Khloe and Lamar congratulations on their wedding and you and Reggie are right for each other," wrote AJ. 
A blog post dated May 18, 2009, was titled "Kardashians turn into Mermaids!" but unfortunately, Wayback Machine has no archived page for it. 
Kardashian was up to her old tricks by June 2010, but her friend count had inexplicably dipped down to 3.3 millon. Courtenay Semel, beloved Kardashian BFF, was featured in her top 12, as were Williams and O'Day — again.
Myspace had lost some of its popularity by 2011, which perhaps explains the relatively lack of change in Kardashian's Myspace page during that year and the next year. The only difference appears to be the absence of O'Day in her top eight.
2013
In 2013, Kardashian updated her page's look. Unfortunately, the Wayback Machine didn't capture any other images or links, so we're left only to imagine what used to be.
2014 
The page went through a few different background changes in 2014, including a dusty, Instagram-worthy road:
And a close-up of a suitcase labeled "To Europe, Summer 2010":
Present day
While her Myspace page is still up, it seems like she isn't too active anymore. After all, she's since moved on to other greener social media pastures — she has over 32 million Twitter followers and 36 million Instagram followers. 
You've come a long way, Kim, but we'll always have the memories — and the Comic Sans blog posts.