'Orange Is the New Black' Season 3 Is Out – Here's Why We Can't Wait to Binge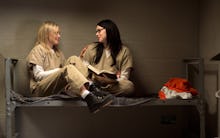 The surprise of Orange Is the New Black's third season getting an early release last night is wearing off. Now, fans can sit back and enjoy 12 new episodes of their favorite show, with new stories, new focus episodes for their favorite characters and more.
Viewers who didn't take the plunge and binge throughout Thursday evening and Friday morning can look forward to a weekend stay in Litchfield Penitentiary. Here's what's in store for season three's first episodes and beyond.
Note: Mild spoilers ahead for the third season (and previous seasons) of Orange Is the New Black.
1. Alex is back — for better and worse
After a year away, actress Laura Prepon is back on OITNB as a series regular. That's good news for fans and bad news for her character: Alex Vause is back in prison. She's totally confused as to why, too, though viewers aren't: Piper (Taylor Schilling) told her probation officer of Alex's plans to flee last season. It's not wholly Piper's fault — just mostly.
"I had a chance to make a life," Alex tells Piper in an emotional reunion scene in a chapel. Alex may be one of the more devious characters on OITNB, but she's sympathetic. More than that, she gives the increasingly aloof Piper a story to care about. Piper and Alex may be terrible for each other, but at least early in this season, it's nice to see their interplay. 
Alex is also a much better flavor of villain than what we got last season.
2. Vee is gone — entirely for the better
Lorraine Touissant is a terrific actress, and her portrayal of new alpha inmate Vee last season was stunning. Unfortunately, Vee as a character was a gross miscalculation on the part of creator Jenji Kohan and her team. In a world filled with characters living in shades of grey, Vee introduced an absolutely evil element. It wasn't particularly compelling to watch, outside of watching Touissant's masterful performance.
"Vee is fine," Suzanne (Uzo Aduba) says in the season three premiere, and she says it with enough confidence to make her supposed death at the end of last season seem less certain. Not to worry, though; as the other inmates tell Suzanne, Vee is definitely dead. (The show's stars have confirmed her death as well.)
Note for Harry Potter fans: There's a stellar Goblet of Fire reference in the women's conversation about Vee. It involves a certain wizard-turned-sparkly vampire.
3. It's Mother's Day in Litchfield Penitentiary
The first episode, titled "Mother's Day," is all about what happens when inmates' families visit for the holiday. Sophia (Laverne Cox) is doing mothers' hair for the occasion. We see flashbacks of the women as both mothers and daughters. The sequence where the families visit is particularly compelling.
"Mother's Day" recalls one of the series' best episodes, "You Also Have a Pizza," set on Valentine's Day. These occasions give the audience a chance to see a very specific and personal side of these women, first romantically and now familially. While we'd never want OITNB to become a holiday-only show, it does make a fan want a Thanksgiving episode sooner versus later.
4. The more things change, the more they stay the same
The reason "Mother's Day" works, however, is because this show's cast is simply unparalleled. It shows a variety of women in different stages of life. Racial and sexual themes abound; no subject is too sticky. The men are basically afterthoughts (Jason Biggs is completely gone this season), allowing for full focus on these flawed, lively women.
"These are complicated ladies, and this is a complicated place," Caputo (Nick Sandow) tells Litchfield's newest officer in the premiere. It might as well be the thesis for OITNB on the whole. There's no other world on TV, be it streaming, network or cable, as vivid as Litchfield Penitentiary. Even when there are weak storylines or unappealing moments for fan favorites, these characters are what keep us coming back.
Luckily for us, season three looks like a celebration of these women first and foremost. With that in mind, we can't possibly binge fast enough.