Watch 'Unreal,' an Excellent New Show That Nails the Problem With Reality TV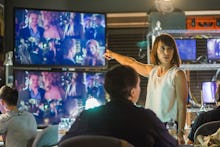 Rachel Goldberg is very good at what she does. The reality TV producer can stir up drama with just a slight push. She's got the magic touch, and her work on the Bachelor-esque dating show Everlasting is impressive. She's a borderline sociopath, but there's no one better than her at her job.
It also made her have a nervous breakdown. Yet Rachel has come back for more in Everlasting's new season.
"Leave your conscience at the door on this one," her boss Quinn tells her when Rachel has to manipulate a situation for maximum pain. No matter how much she tries to do good, Rachel's better instincts always get pushed to the side. In that way, Rachel is the quintessential reality TV producer. She's also a fictional one.
Rachel is  a borderline sociopath, but there's no producer better than her.
Rachel, played by actress Shiri Appleby, is the protagonist on Lifetime's Unreal, a new drama airing Mondays this summer. Unlike typical Lifetime fare, Unreal is an excellent, biting drama, filled with complex characters and ambitious storylines. It totally and completely eviscerates the genre it's satirizing: Whether or not you're a fan of the form, you'll find Unreal both horrifying and fascinating — just like reality TV itself.
In the first episode, Rachel conspires with the suitor (Everlasting's synonym for "the bachelor," played by Pitch Perfect's hot Brit, Freddie Stroma) to screw with her boss (Constance Zimmer). Instead of eliminating a tall Southern woman as planned, he eliminates the pushy, bitchy Brittany (Gilmore Girls' Arielle Kebbel, perfectly cast). Brittany explodes, storming off the set and leaving Everlasting with little good TV.
Rachel is tasked with getting a soundbite out of Brittany before she leaves. Taking shots with her and talking about her family not loving her, Rachel manages to coax an impressively self-aggrandizing quote out: "I am completely lovable," Brittany says through tears.
She spits on Rachel and storms off. Rachel looks miserable, but the other producers can't help but mumble their approval. "Rachel's back," one says with quiet triumph.
These kinds of manipulations are par for the course in Unreal. In the second episode, the father of frontrunning contestant Anna (Johanna Braddy) is hospitalized. Rather than tell her, Quinn keeps her in the dark. Rachel disobeys and tells Anna, who promptly flees. When she's tracked down, she's devastated: Her father died.
Wracked with guilt, Rachel tries to get Anna back to film a dignified exit. She's greeted by an ambulance and a staged scene, causing her to damn the producers in a wave of outrage.
The draw of the show is too much for Anna and her family to resist, however; after some urging from Rachel, she rejoins the competition. It's as addictive for her as it is for Rachel — and as it is for reality shows' audiences.
Unreal isn't for everyone, particularly because it does demand some knowledge of reality TV. You don't need to be a Bachelor obsessive, but any amount of understanding will make the show's language more comprehensible. Liking reality TV, however, is not a disqualifying factor for loving Unreal. The show simply holds up a window into this twisted world. Whether you like what you see says more about you than it does about the genre.
Unreal holds up a window into the twisted world of reality TV. Whether you like what you see says more about you than it does about the genre.
The third episode of Unreal airs Monday night at 10 p.m. ET, but the first four episodes are all available to watch on Lifetime's website now. The show is completely binge-friendly, owing to its mix of drama and relatively light subject matter.
Once you've watched, however, you may not think the subject so light. These are people's lives being messed with. If it weren't so delicious to watch, it would probably be utterly disgusting.