These Dolls Are Encouraging Diversity in the Most Unexpected Way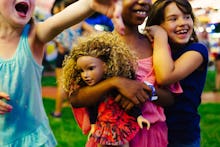 It seems we're in the middle of a doll revolution. From the realistically-proportioned Lammily to the "Angelica Doll," which has "facial features true to women of color" and "natural hair," more dolls that look like "real" girls are available for purchase than ever before.
Twin sisters Laken and Carlissa King think these "diverse" dolls can be even better and have launched their own line, Elle & Cee's World Girls, to prove it.
The sisters know how important having dolls that represent a variety of aesthetics, such as varied hair colors and textures and skin tones, is for young girls — especially young girls of color. Growing up as "super tall black girls playing competitive tennis," they told Mic via email, they personally encountered a lack of dolls that looked like them.
But while being able to play with a dolls that look like them is meaningful to young girls who are often not represented in the mainstream media, the sisters dream of a world in which girls also play with dolls that look different from them, too.
"We want girls to connect with our dolls beyond their appearance and know that they can form meaningful relationships with people from different backgrounds," the sisters explained. "If girls identify with different dolls and girls, we believe these connections will help them better understand one another. It will allow them to come together to effect positive change."
This value of global sisterhood is emphasized by the fact that Elle & Cee World Girls are considered members of a team. Each World Girl doll has its own unique (but equally valuable) strength. These traits — which include "defender," "explorer," "warrior," "healer," "innovator," "rebel" and "scholar" — are intended to encourage girls to "identify not only with the dolls' looks, but with her passions and strengths," the Kings said. 
Studies have shown that dolls are more than just frivolous fun for children; they can also impact the way kids feel about meaningful things such as body image and career aspirations. Offering them the most affirming and inspiring dolls possible, then, is about laying the groundwork for something much bigger.
"We want [girls] to maintain that curiosity and open-mindedness and to continue celebrating one another as they mature," the sisters explained.
To do that, though, the team needs funding. The duo launched a Kickstarter campaign today, and the campaign has already raised hundreds of dollars towards its $150,000 goal.
It's clear that the King sisters are determined to instill these values in countless young girls, and with a little support, their dream will soon be a reality.