Rachel Dolezal Is Nothing Like Caitlyn Jenner — And Here's Why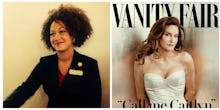 If Caitlyn Jenner can identify as a woman, why can't Rachel Dolezal say that she's black? Plenty of people have asked this question, even before Dolezal's name became a hashtag. 
We've seen Jenner step out publicly and tell the world how she knew she identified as female, even while competing at the 1976 Olympic games and even as a young child. And like we'd do for transgender friends who come out, we use the preferred she/her pronouns and acknowledge her first name as Caitlyn. 
So why don't we just accept Dolezal as black? Because she's not. 
Her parents say she is not even close to being black, but she has portrayed herself as such. Dolezal, who graduated from historically black Howard University, leads the Spokane, Washington, chapter of the NAACP and is a professor for Eastern Washington University's Africana studies department. On paper, she appears to have the basic makings of a black intellectual: She's lectured on the history of natural hair (and has sported locs and afro-like curls herself), and has become a formidable activist in black rights and in the fight against police brutality in Spokane. While she has not always declared herself a black woman, she has rejected her white parents publicly and claimed to be at least part black when applying for a position on the local police ombudsman commission. 
So what's the difference between identifying as black and identifying as a woman?
It's pretty clear: Dolezal has lied. She's spent the last decade going out of her way to falsely represent herself as black. And she claimed her race, as well as her outspoken activism, made her a target for hate mail and death threats (an allegation that investigators have yet to substantiate, according to KXLY News). 
Rather identifying as a white ally, Dolezal misrepresented herself. This does not necessarily distort her leadership potential or passion for justice, but deeply mars her general credibility as an individual. In a statement Friday morning, the NAACP said "one's racial identity is not a qualifying criteria or disqualifying standard for NAACP leadership. ... In every corner of this country, the NAACP remains committed to securing political, educational and economic justice for all people, and we encourage Americans of all stripes to become members and serve as leaders in our organization."
On the flip side, transgender people like Caitlyn Jenner are not lying. If anything, their decision to come out is the ultimate declaration of honesty, of being upfront with who they are. 
Dolezal has been performing a sort of blackface, a stereotypical concept in itself, that is largely seen as falsely representing black existence. So the big difference is that while we don't know why Dolezal carried on with an assumed black identity for so many years, we do know that transgender people aren't donning costumes or masquerading in different genders. They're living their truth, which seems to be more honest than what's been unfolding in Spokane.