Gunman in Armored Van Opens Fire in Brazen Assault on Dallas Police HQ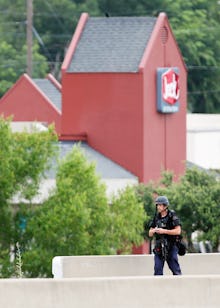 At least one person assaulted Dallas Police Department headquarters early Saturday morning, firing rounds at police vehicles and HQ windows from what police described to CNN as an "armored van."
Police now believe there was only one suspect involved in the raid, during which two pipe bombs were laid outside the building. One of them was accidentally triggered by a bomb-destroying robot and exploded. A timeline on the police department's website said that after opening fire at police HQ, the suspect then fled to the parking lot of a Jack-in-the-Box restaurant.
According to the department's Twitter account, a sniper was eventually able to shoot and possibly kill the suspect, although as of a press conference held at shortly after 10:00 a.m. ET CNN learned that it was unclear whether the suspect was dead.
Activist Deray McKesson posted videos on Twitter that appeared to show bystanders' recordings of gunfights between police and the gunman.
According to the Dallas Morning News, it is possible that the van used in the assault was originally sold on eBay as a "Zombie Apocalypse Assault Vehicle" which "features convenient gun ports so no zombie juice touches you during a mass zombie take down."
The Dallas Morning News also reported that the suspect had given the name James Lance Boulware to police, and that in 2013, Paris, Texas, officers had "arrested James Lance Boulware after he obtained firearms, ammunition and body armor before threatening to attack his family, as well as churches and schools." Boulware may have been angry over an acrimonious custody battle, and Heavy.com noted that a Facebook profile using the same name had posted comments critical of local judicial officials, police and the Obama administration on Facebook.
This is an ongoing story and will be updated when more information becomes available.