Kendrick Lamar's Just Proved He's the Best Live Performer in Hip-Hop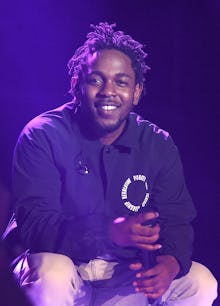 Hip-hop headliners at Bonnaroo are a rarity. The slot is reserved for only the weightiest names — Jay Z, Eminem, Kanye West and the Beastie Boys. On Friday, Bonnaroo inducted one more rapper into that pantheon: Kendrick Lamar.
Friday night was the third time that Kendrick Lamar had rocked a Bonnaroo stage, his first being in 2012 at the much smaller This Tent. He mentioned that set on Friday, casually rating it as an 8.5. He swore to the crowd that he would take this one to a 10. When the muggy Manchester, Tennessee, night was heating up, he reconsidered. "Fuck 10. Let's take it up to a 20," he said. And he absolutely did. The good kid is only getting better.
Backed by a flexible live band, Lamar opened with a run of good kid, m.A.A.d. city hits, beginning with "Money Trees" and transitioning into a hell-raising "Backseat Freestyle." Lamar's guitarist used a heavy distortion on the Compton MC's heavier tracks, like "m.A.A.d city." His drummer played fearlessly, peppering each song with increasingly ambitious fills.
Lamar performed like a possessed man. "If y'all not tired, I'm not tired," Lamar told the crowd at one point. He extended a long version of "m.A.A.d city" with a false ending that turned into an even longer jam. A mosh pit broke out; Lamar's guitarist played a killer solo. The crowd was in the palm of Lamar's hand the entire time.
Live hip-hop: Hip-hop sets are often major let-downs. An MC gets on stage to rap,  then his or her DJ presses play on the beat. Lamar's Bonnaroo set should stand as a lesson to any and all MCs who think the addition of a live band is negligible. The energy they brought to "King Kunta," and the way they remixed the beat of A$AP Rocky's "Fuckin' Problems" into an engaging instrumental, made the show come alive in a way hip-hop sets rarely do. Lamar brings the same fierce spontaneity to his live act as he does to his verses. If his own set weren't enough, he also came out during Earth Wind and Fire's set later in the night to freestyle alongside Chance the Rapper, bouncing over the band's legendary funk.
A king: Lamar is truly mastering his live flows and breath management, as well as his crowd control. There are fewer things sweeter than hearing thousands of fans earnestly scream "We want the funk!" when the music cuts at the end of "King Kunta." They got it, and they took it.