Jeb Bush's New Campaign Logo Is Really Something Completely Different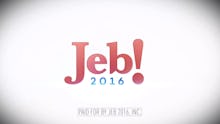 Former Florida Gov. Jeb Bush isn't expected to officially announce his presidential campaign until Monday. But in the meantime, he's blessed us with what is undoubtedly his campaign logo.
As seen below, it's a doozy, featuring "Jeb!" over the year 2016:
It's a goofy-looking logo, though it does stand out from the crowd (perhaps not in the way Bush intended). Like his Democratic frontrunner counterpart Hillary Clinton's much-panned logo, it's already attracting a lot of cynicism and mockery, much of it playing off the interplay of the anti-intellectual attitude popularized by his brother George W. Bush and the new logo's apparent over-enthusiasm.
Some defended the logo, which has been in use by Bush for around two decades.
The Atlantic's David Frum, however, pointed out that the biggest benefit of the logo was it conveniently omitted Bush's biggest vulnerability: his last name.
Of course, none of this is official yet, but Bush does make an appearance during another campaign-style video released Sunday by his staff.  Ready yourselves for another year of the Bushes, this time with Jeb! in the spotlight.