The SuperJam Is What Makes Bonnaroo the Last True Major Music Festival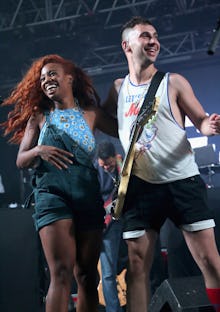 Long ago, before music festivals became heavily corporate, they presented a unique opportunity for artists to collaborate. Old classics, like Woodstock and the Isle of Wight, strove to create a spirit of creative freedom, improvisation and collaboration among artists. That experimentation is rarer in today's scene, but at Bonnaroo it's more alive than ever. In fact, there's a kind of set devoted to that spirit. They call it the SuperJam, and it's the beating heart of Bonnaroo.
Every year, Bonnaroo curates at least one of epic jam, bringing together performers from across the musical spectrum to actualize a theme. This year's was "'80s Throwback," and it brought together a mind-blowing grouping of players. Chance the Rapper spit the lyrics to Biggie's "Juicy" over instrumentals arranged by Pretty Lights; Jack Antonoff from Bleachers (and, fittingly, Taylor Swift's 1989) channeled some Talking Heads and musical/comedy mastermind Reggie Watts scatted some smooth '80s R&B. From start to finish, the set felt unpredictable, raw and blissfully fun — exactly how music at a festival should be.
Emissaries from every genre were present to participate. SZA represented R&B to deliver a faithful rendition of "Under Pressure" alongside Antonoff. Rhiannon Giddens left her banjo behind to belt a soulful "Roxanne." Jamie Lidell serenaded the Bonnaroo crowd with some Marvin Gaye, dedicated to all those seeking their own "Sexual Healing" at the tents later.
Chali 2na from Jurassic 5 served as Master of Ceremonies. He also acted as a faithful Rev. Run to the legendary DMC of Run DMC, fulfilling a lifelong dream, as he said, by trading verses with the godfather on "It's Tricky." He stepped aside to let DMC sing his epic hip-hop/rock crossover "Walk This Way" with help from Cherub's Jason Huber, who has masterfully channeled a young Steven Tyler.
Each song was a bit rough around the edges, but that's part of the event's charm.
"It's a risky show. And it's all based on what could possibly come out of improvising between incredibly talent people," said Paul Peck, SuperJam Organizer, during a press conference Friday. "And as much as we rehearse, we never really know how it's going to play out, but we're all going to find out at the exact same time. I don't know if my efforts and all the other artists' efforts are worth it until we play the show. Usually we're on cloud nine."
This year they absolutely were. The group pushed through the inevitable technical difficulties, forgotten lyrics and missed changes — and always recovered. That elasticity led to some incredible payoffs at times, when solos ran long, and the other musicians improvised extensions to bring their parts to new, unexpected climaxes. 
The SuperJam captured something so precious but rarely seen in live music today: spontaneity. Simultaneously unexpected and totally in control of some of our best musicians, the set captured the electricity for which all the best live music strives. Bonnaroo's SuperJam proved that the compelling, free creative atmosphere of the music festivals of old is not lost.