'Jurassic World' Chomps Its Way to Staggering $511.8 Million Weekend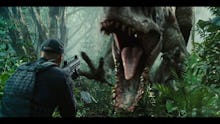 Jurassic World has taken a bite out of box office history.
Variety reports the movie starring Chris Pratt "opened to a staggering $511.8 million worldwide, the highest global bow of all time" and "the first time a film has ever grossed more than $500 million in a single weekend."
The numbers are somewhat inflated because they include box office numbers from Wednesday and Thursday, but it's still an amazing opening for the newest visit to the franchise. The high totals also reflect the growing importance of foreign markets; in China, the movie grossed $100 million.
The bad news is that the film received a low to middling critical reception, with many reviewers noting the awkward dialogue and script, but the creators were probably hoping you were paying more attention to the gigantic dinosaurs.
As Entertainment Weekly reports, Jurassic World only narrowly missed becoming the biggest domestic opener in U.S. history. At $204.5 million across the U.S., it was only a few million dollars short of dethroning The Avengers, which grossed $207.4 million in 2012.
Not bad for a franchise that hasn't seen a release since 2001. Apparently dinosaurs — and nostalgia — still sell predictably well.
Nick Carpou, Universal Studios president of domestic distribution, told Variety the movie was succeeding because "Dinosaurs are fascinating to everyone. It's cross-cultural."
Among the others who will be breathing easily is star Pratt, who has spent most of the last few months preemptively apologizing for offensive remarks he might make during the press tour.
Correction: June 15, 2015