What the Dream Band Would Look Like if Every Musician Were From Your State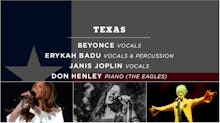 Whether it's a song about longing for a beloved home or breaking away from a stifling one, American musicians are always writing about the places they're from. American music isn't defined by a sound or a set of artists, but by a theme. American music is about America — the places we've left and the places to which we hope, someday, to return. All the songs about home only speak to one thing: Often, there is nothing so close as a musician and his or her home state.
So we've compiled the dream band from musicians born solely in each state to find the sound at the core of each one. Often, we cut famous musicians in service of a more coherent group identity. Likely more often, we skipped someone you think we should've included (tell us in the Facebook comments). But these are some of the greatest bands that never were. Some are mighty, some are funny, some are Alaska (sorry, Alaska), but each is great in its own way. Here are the dream bands from every state:
Alabama
Americana
As the "Heart of Dixie," Alabama has a lofty musical reputation to uphold. This soul-tinged Americana act, featuring Brittany Howard, the lead singer of Alabama Shakes, lives up to that reputation. Lionel Richie's insistence that all of their music videos feature a blind potter is off-putting, but his keyboard skill is appreciated nonetheless. Benny Benjamin, the rock solid drummer behind Motown's greatest hits, keeps the group tight. Every show ends with a rousing rendition of Jason Isbell's redemptive "Alabama Pines."
Alaska
Experimental spoon-funk
Alaska has one of the more unique bands in the U.S. Jason Everman,  the guy who got kicked out of both Nirvana and Soundgarden, holds it down on guitar. Then there's famed cutlerist Artis the Spoonman, who coincidentally had a song written about him by Soundgarden. Who needs a bass and drums when you've got cutlery and two erstwhile members of Soundgarden? As Artis once said on late night TV, "Most people don't realize just how versatile spoons are."
Arizona
Ballad country
Linda Ronstadt was actually a huge influence on Stevie Nicks, so it's only fitting that the two folksy rockers get together. Add virtuoso jazz bassist Charles Mingus and country star Dierks Bentley on guitar (both of whom, on Stevie's insistence, dress in swirling skirts and drapes of beads) and Arizona's got a classic, driving country band.
Arkansas
Country-soul trio
You won't find a better act for three-piece harmonizing north of the Mason-Dixon. A classic country trio with a soul twist, they sing every melody as if it were the chorus of "The Weight" and play every show like it were the Last Waltz. Van Morrison is waiting in the wings always, ready to don his bedazzled purple suit.
California
Soul-rap band
In the vein of his much-beloved new record To Pimp a Butterfly, Kendrick Lamar's California band is as strong musically as it is lyrically. Katy Perry sings hooks; famed hip-hop producer Flying Lotus and Beck, who has recently returned to his funky sound, produce; Frank Ocean smoothes everything over with jazzy Rhodes chords; Nikki Sixx and Travis Barker hold it all together in an admittedly thrashy rhythm section. Somewhere, wandering alone in the hills, Tom Waits wonders why he wasn't invited.
Colorado
Pop R&B
Colorado seems more like the place to find a bunch of jam-band bros, but their band is actually an R&B collective. Three extremely talented musicians from bands more famous than they are — the Fray, Maroon 5 and Kneebody — accompany the ever-regal India.Arie's soaring vocals. Her soulful acoustic vibe fits well echoing from the mountain stages where she was born.
Connecticut
Emo power pop with a modernist twist
Connecticut couldn't quite escape its white-boy rock reputation, but it wears it with evident pride. This emo power pop band features Liz Phair's powerful lead vocals backed up by the smooth licks and gratuitous face-solos of John Mayer, who, while a blues artist, is surely emo at heart. Meanwhile, unsettling modernist composer Charles Ives does most of the production and occasional piano. Chris Carrabba, the feelings man behind Dashboard Confessional, serves as a one-man focus group for the whole target demographic. All in all, the band is a great, gloriously mopey act.
Delaware
Straightforward rock
This band plays Thorogood's "Bad to the Bone" over and over again, but set to the clockwork, angular rhythms of a portion of the great Television rhythm section. Without Verlaine and Ficca, bands like the Strokes and Interpol would never have found that interlocking sound. Thorogood is a quick study.
Florida
Freak country
Stay with us here, Florida. It might seem weird to put all these strong personalities into the same band, but could you imagine the onstage antics? Jim Morrison sings, sometimes strips and predominantly recites An American Prayer. Ariana Grande is the singer with a huge range and pop acumen, but also the wildcard as far as the band's sound. Gram Parsons helps guide the group's country aspirations and Tom Petty peppers them with the sounds of Southern rock. Derek Trucks plays earth-shattering solos on nearly every song. Only a bizarre band like that could do justice to a state like Florida, the U.S. capital of airborne fish attacks and herpes-infected monkeys.
Georgia
Classic soul
Georgia birthed a soul band made in heaven: With legends like Otis Redding, Gladys Knight, Ray Charles and Little Richard forming the core of Georgia's band, and Kanye lending his expertise on 808s and synth bass, it's perfect cook-out music.
Hawaii
Beach acoustics
Johnson and Kamakawiwo'ole, most famous for his jaw-dropping "Somewhere Over the Rainbow," are the core of this band. Their gentle voices and strumming effectively mask the catchy pop songs penned by Bruno Mars, whose multi-instrumentalism comes in handy. The Shins' James Mercer contributes arrangements, as well as flawless harmonies. 
Idaho
Americana
Idaho is the heartland, and this band cuts straight to the heart of Americana. Josh Ritter, who has previously written an ode to the state, is the lead songwriter, and Doug Martsch's angular guitars keep things interesting. Famed bassist Victor Wooten, best known for his work with Bela Fleck, holds down a more inventive sort of string bass, occasionally stopping the set to perform a jaw-dropping cover of "Amazing Grace."
Illinois
Soul-jazz
Miles Davis and Jeff Tweedy, both famous for changing their line-ups, are constantly at war over who in the band to fire. Yet this band's perfectionism makes for an unbelievably fresh sound. Their fusion of Mayfield-Hathaway soul and Davis-Hancock modern jazz is intoxicating. Tweedy brings his experience working with Mavis Staples to bear on the group's melting pot. During intermissions, Patti Smith, who revolutionized rock 'n' roll with Horses in 1975, performs spoken word while Davis plays mournful, muted trumpet. "Birdland" is a favorite.
Indiana
The Jackson 5.0
When every member of your band is a diva, things get interesting. Such is the case with Indiana's five-piece band, aptly called the Jackson 5.0. Babyface, David Lee Roth (of Van Halen fame) and Axl Rose (by way of Guns N' Roses) round out the core of the band: Michael Jackson. Trouble only arises when Axl Rose has to dance.
Iowa
New Orleans brass band
Oddly, one of the best New Orleans brass bands comes from the Iowa plains. Glenn Miller, the famous big band impresario, takes the New Orleans brass band sound and makes it accessible to a huge audience. Arthur Russell, the inventive alternative cellist who played everything from orchestral music to disco, trades his cello for a stand-up bass, but can't help adding odd textures to everything. Scot Halpin, most famous as the guy who sat in for Keith Moon when he collapsed on stage, holds it down on the drums. Farmer and his famed lyrical trumpet leads the horns in a wide range of rousing jazz standards. Miller once said, "A band ought to have a sound all of its own. It ought to have a personality." Iowa doesn't let him down.
Kansas
R&B
The rhythm section of Kansas, it turns out, is the most famous rhythm section in Kansas. Janelle Monae is the dominant creative force in this band, but as in her own non-parallel universe work, one of her best skills is drawing unbelievable work from her collaborators. In this case, that means Joe Walsh doing the solo from "Hotel California" on every song.
Kentucky
The Kentucky Revue
This band of six country and folk legends travels the country, revue style. Playing only mid-sized theaters, each songwriter takes a turn at wowing the audience with two to three perfect songs. Jim James of My Morning Jacket delivers meandering folk ballads; Chris Stapleton, the hit-songwriter for artists like Adele and Luke Bryan turned famous singer, shows off his writing chops; Sturgill Simpson does his brand of druggy country; Will Oldham sings his quavery, expansive Americana; Dwight Yoakam and Loretta Lynn keep it straight country.
Louisiana
New Orleans jazz
This is, quite simply, the greatest New Orleans jazz band of all time. Young trumpet phenomenon Christian Scott introduces Armstrong to decades of jazz innovation, and Armstrong trades the secrets of a classic jazz man. Dr. John keeps things old and weird alongside Fats Domino, and gospel and civil rights legend Mahalia Jackson, who famously sang at the March on Washington, delivers jaw-dropping lead vocals. Lil Wayne occasionally serves as hype man.
Maine
Folk trio
Folk musicians Patty Griffin and Ellis Paul agreed to be in Maine's band with Howie Day; only later did they discover that the only song Howie knows the chords to is "Collide." So, in the style of Peter, Paul and Mary, Maine's three-piece folk group tours the country, playing weddings and performing various acoustic versions of "Collide." We're sorry, Maine.
Maryland
Experimental rock
This is one of the oddest and most potent creative combinations on the list. Each artist is noted for innovative and distinctive styles. Frank Zappa is the visionary, renowned jazz guitarist Bill Frisell flexes around his vision and Mama Cass Elliot keeps things situated more in the realm of melody. Together, they are the most unpredictable experimental rock band in America. At least, they're in the running with Alaska. The only difference, again, is that Alaska really thinks spoons are the next big thing.
Massachusetts
Classic rock
Massachusetts was either going to be a bro-folk trio of James Taylor, Matt Nathanson and Chad Stokes or the epically straightforward rock band you now see before you. Between the leader of the Pixies and the lead signer of the Dropkick Murphys, the band has a real edge. Phish bassist Mike Gordon keeps it as loose and funky as J Mascis keeps it heavy. Steve Smith, the drummer from Journey, drenches his drum kit in reverb and provides suitably epic fills every four bars.
Michigan
Motown's lost legend
Michigan's band is essentially a collection of Motown greats. Stevie Wonder, Smokey Robinson, Diana Ross and Madonna, whose charisma belongs at Motown, all live down the block from Hitsville, USA. They practice harmonizing for hours a day. When they're ready to record, they call in Elvin Jones and Stevie Wonder to flesh out the band with a house bassist. Glenn Frey later leaves the band to make a sequel to Expedition Earth: Grand Canyon: River of Dreams.
Minnesota
Experimental folk duo
Bob Dylan and Prince's folk collaboration should both entice and terrify the residents of Minnesota. Expect better harmonies than Simon and Garfunkel, bigger ego wars than Oasis and "The Times They Are A-Changin'" with loads of falsetto. When Prince changes his name to a symbol, Bob Dylan changes his name back to Robert Zimmerman.
Mississippi
Southern soul
Mississippi is the ultimate southern soul band. Cooke and Presley share lead vocal duties, putting a strong bid in for state with the best voices. Diddley and Waters alternate on lead, while famed blues guitarist Bankhead takes to the bass to support the group. Funk Brothers drummer Eddie "Bongo" Brown of Motown fame sits back behind them all, holding everything together. Howlin' Wolf was invited, but he insisted on a staying solo.
Missouri
Country-blues
Missouri. That's Country country. Michael McDonald relives his days as the Doobie Brothers pianist, occasionally providing distant background vocals. Sheryl Crow and Chely Wright split lead duties; Chuck Berry and Paul Butterfield Blues Band drummer Phillip Wilson sneak in a blues song or two when they can. Eminem and Akon plot revenge for their exclusion by co-authoring the worst pop-hip-hop song imaginable.
Montana
Eery Country
Montana is an eery country band. David Lynch, horror music auteur and the director behind Twin Peaks and Mulholland Drive, maintains a cordial and mannered relationship with Jeff Ament, who lives in constant fear and sometimes plays bass. Lynch brings the off-kilter Americana of Twin Peaks to the country genre. Colin Meloy of the Decemberists sings murder ballads from the 19th century, and Jonny Fritz holds it down aesthetically as well as on the guitar. He resumes the nickname of Jonny Corndawg, and Lynch approves.
Nebraska
Bright Eyes
As in real life, Conor Oberst is the Nebraska musician Nebraska needs. But is he the musician Nebraska deserves?
Nevada
Glam rock
This band spends 12 hours a day choosing outfits, one hour a day dishing on Kanye West in the popular press and 30 minutes writing undeniably catchy glam rock songs. Dan Reynolds routinely makes passive-aggressive comments to Brandon Flowers about Imagine Dragons' success. Everybody is working on a solo project. But, just like the Killers, when they're together they're huge, undeniable and undeniably Vegas.
New Hampshire
Mountainous folk
These three make the most soothing, rolling folk music imaginable. Sheff, the woodsy folksman from beloved indie acts Okkervil River and Shearwater, handles the lyrics; Ray LaMontagne coaches on beards. Together, their harmonies especially are unstoppable.
New Jersey
The E Street Band
New Jersey is hard because the dream New Jersey band basically exists in the real world: Bruce Springsteen's E Street Band. Still, the additions of Frank Sinatra and Whitney Houston on lead vocals and the substitution of incomparable jazz pianist Bill Evans for Roy Bittan aren't hurting anyone (no offense to the equally incomparable Roy Bittan). Frank Sinatra's "My Way" is oddly perfect for this band.
New Mexico
Tex-Mex Country
John Denver writes the songs. Grammy-winning Native American flutist Robert Mirabal and Zach Condon, trumpeter and singer of Beirut, together form an unique horn section, which Condon's trumpet pushes in the Tex-Mex direction.
New York
Hip-hop collective
Hip-hop was born in New York City with many of its greatest MCs. There are some heated intragroup rivalries — Notorious B.I.G. and Tupac have to be separated whenever they perform. But nothing compares to this group's trading verses over Phil Spector's wall of sound and Carey's lofty hooks.
North Carolina
Jazz quartet
Had North Carolina's natives never hit the scene, jazz would have been completely different. Coltrane, Monk, Heath and Roach were each legends of their own instrument, and they all played with one another in various iterations throughout their lives. But this North Carolina quartet would surely have been their best.
North Dakota
Freak rap
Wiz & Welk, as they're known, mostly stare at each other. Welk, always a master of ceremonies, brings in an endless string of collaborators and plays accordion on every beat.
Ohio
Americana funk-soul
Bootsy Collins and Jason Molina are at opposite ends of the Americana continuum, but they have a rare respect for one another. Each artist is a different shade of Americana, ranging from Molina's folk to Legend's secular gospel and the classic rock of Grohl's drums. Bobby Womack, who wrote songs for Wilson Pickett and played guitar for Sam Cooke before mounting his own pioneering solo career, contributes vintage soul vocals and guitarwork. Screamin' Jay Hawkins, Marilyn Manson and Boz Scaggs were in the group for a time, but after attempting to perform an occult ritual (led by Manson) onstage, they were all fired. They went on to form the most terrifying barber shop trio the world has ever heard.
Oklahoma
Pop-psych country
The world's first pop-psych country band, not to be confused with freak country from Florida. Garth Brooks and Blake Shelton add a little pop; Annie Clark, known as St. Vincent, weirds everything out with her acclaimed vocals and shredding. They extended an invitation to Woody Guthrie, but he wound up hopping a train instead. Reba McEntire keeps country tradition firmly in view, grounding the rest of the tendencies towards the sometimes weird and the sometimes trite.
Oregon
Jazz fusion trio
This jazz fusion trio is anchored by New Age jazz legend Esperanza Spalding's bass. Joe Plummer of Modest Mouse churns alongside guitarist Corin Tucker from Sleater-Kinney, creating a woozy blend of earthy sounds.
Pennsylvania
Chart-topping jazz fusion
This band, anchored by Questlove and led by Billie Holiday, is the first jazz-soul fusion group to top the charts 15 times consecutively with singles from the same album. That's because Taylor Swift, a la Col. Tom Parker, is their cutthroat manager. Joan Jett, the original rock feminist, adds an edge to Holiday, LaBelle and Scott's perfectly blended vocals.
Rhode Island
Pop Americana
McCauley, of acclaimed indie rock act Deer Tick, and Donelly have all the indie cred they could ever want, but it doesn't always pay the bills. With hit-maker Dr. Luke on hooks and layered, super-compressed synth production, the group has it both ways as the first pop Americana outfit.
South Carolina
Funk
South Carolina has an unstoppable funk band. Dizzy Gillespie brings every shout chorus home and James Brown is both band impresario and lead singer. Ray Davis of P-Funk has the bass on lock, to the exclusion of James Jamerson of Motown fame. South Carolina is a land of bass.
South Dakota
Blues hip-hop
Frank Waln, a young rapper, is rapidly rising to fame as a voice for Native Americans. Nanji, meanwhile, honed the sound of Native American blues with blues-rock outfit Indigenous. Together, they create a sound most similar to this set of Black Keys hip-hop remixes, with an eye towards speaking for an oft-overlooked population. As Waln previously told Mic, "There's so much beauty in our communities and there's so much hope. There's people doing great work to bring about change in my home community. For the most part, the world isn't going to hear those stories. As my platform grows, I hope to try to amplify those voices and those stories."
Tennessee
Soul
Tennessee is home to a near infinity of dream bands, but this Southern-tinged soul group is perfect. Aretha Franklin's belting is well-supported by James Brown's drummer, Clyde Stubblefield. Tina Turner, Miley Cyrus and Dolly Parton aren't bad back-up singers, either. But it's the pairing of Franklin's stately vocals and Duane Allman's singing slide guitar that makes the band.
Texas
Texan soul
Badu's husky whisper, Joplin's thunderous belt and Beyoncé's famed vibrato make this Lone Star soul band an unparalleled vocal power house. The female leads stole the show from other Texas natives like Willie Nelson and Barry White. Badu assists Foo Fighters drummer Hawkins with light auxiliary percussion.
Utah
Indie-emo
A sleek indie-emo outlet headed up by Jewel on vocals. Neon Trees drummer Elaine Bradley and the Used bassist Jeph Howard edge everyone towards a slightly more melodramatic sound. Everyone thinks this band is from Las Vegas.
Vermont
Freak folk
Phish, it turns out, is not from Vermont. This bizarre folk duo, however, was. Potter's skillful harmonizing as well as her keyboard and guitar skills make her a triple threat. The two make a huge sound.
Virginia
R&B
Any R&B group in which Pharrell has no business singing has to be special. This is perhaps the sexiest R&B group of all time. Pharrell on production, keyboards and synth bass; D'Angelo is on guitars and shares lead vocal duties with Ella Fitzgerald, who is at home in any century with any act.
Washington
Grunge
Jimi Hendrix didn't need to hear grunge to know its purpose. He and Cobain immediately take to one another. Isaac Brock takes to no one, contributing and sharing his own brand of loner lyrics for Cobain to sing. Yamamoto is a grunge veteran, and brings his time-honored pocket to the group alongside Tobi Vail, drummer for riot grrrl pioneers Bikini Kill.
West Virginia
Country
Paisley and Withers are a forceful country duo. Every night, Withers' "Hope She'll Be Happier" blows the audience away. Between the two of them, they have one of the most awe-inspiring acoustic sounds of any duo.
Wisconsin
Liberace
Jeremiah Griffin Harrison and Jon Paris recreate the quirky funk of the Talking Heads rhythm section. Liberace adds the necessary pizzazz, taking frontman duties with his rhinestone-encrusted microphone. There is no genre; only flair.
Wyoming
With lyrics by the man behind the Grateful Dead and the Electronic Frontier Foundation, Scott Avett focuses mainly on acoustic sounds and warm melodies. Without his brother, he feels a little lost, but his music remains exquisite, even if it is largely about net neutrality.
June 19, 2015, 5:22 p.m.: This story has been updated to remove a use of the word "gypsy," which many Roma describe as a slur.