Kristen Stewart's Mom Had the Best Response When Asked if Her Daughter Was a Lesbian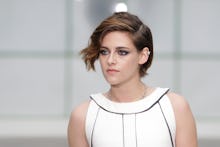 Twilight star and international icon Kristen Stewart made headlines over the weekend after revelations that the actress was dating her personal assistant, Alicia Cargile. 
While it's not the first time a glamorous same-sex couple has taken Hollywood by storm, Stewart's story is unique in the unusual way the news was confirmed: through the star's mother. 
In an interview with the British tabloid the Sunday Mirror, the 55-year-old Jules Stewart didn't waste any time being completely direct when asked about the relationship. 
"What's not to be accepting about her now having a girlfriend? She's happy," Stewart told the Mirror. "She's my daughter, I'm just her mom, so she knows I would accept her choices. I've met Kristen's new girlfriend, I like her. What's not to accept? She's a lovely girl."
More generally, Stewart continued, "I feel like people need to be free to love whoever they want. I accept my daughter loves women and men. It's OK to be who you are in my world. We all choose our friends, so we should be free to choose our lovers. [...] I have gay friends, family members, I'm accepting of people, we are all free to choose who we want to love."
While it shouldn't come as a surprise that a mother loves and supports her daughter, the news gives hope to millions of anonymous LGBT Americans who struggle to maintain close relationships with their families after coming out. 
Studies have shown that family rejection can play a decisive role in suicide attempts and also increase the risk of depression, drug abuse and risky sexual behavior. Across America, young lesbian, gay and bisexual individuals remain at an elevated risk for suicide and are more than twice as likely to make an attempt than a straight counterpart, according to the Centers for Disease Control and Prevention. 
LGBT youth homelessness, mostly among those cast out by family members, has also been steadily rising. In 2010, the Center for American Progress estimated that there were between 320,000 and 400,000 LGBT homeless youth in the United States.
Thanks to her mom (and a sizable bank account), Kristen Stewart is probably going to avoid most of these consequences, but if the weekend news convinces even one mom out there to adopt a more accepting approach, then this story is worth its weight in gold.