9 Stunning Photos Show Iranian Women Fighting Sexism in the Most Beautiful Way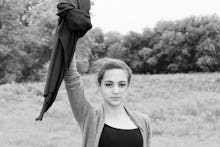 Women in Iran can face lashings or imprisonment for walking around without the legally mandated head covering, the hijab. Last year, the morality police warned, fined or arrested 3.6 million women for inappropriate dress, according to Esmail Ahmadi-Maghaddam, the head of the national security forces in Iran, BuzzFeed reports.
But one woman has set out to change all that. 
In May 2014, Iranian journalist Masih Alinejad created the "My Stealthy Freedom" campaign in which women in Iran abandon the hijab in a protest for gender equality. Since then, the campaign has steadily been gaining traction; its Facebook page, with more than 815,000 likes, boasts a seemingly endless photo stream of women exposing their hair in public spaces. 
"Since the Islamic Revolution in 1979, women in Iran have had to cover their hair in public, but many Iranian women and men feel that wearing a hijab in public should be a personal choice," explains the campaign's official website. "To address this issue we created a Facebook page where women from inside Iran could share photos of themselves not wearing their hijabs."
Iranian government propaganda says women are required to wear the head covering in order to protect themselves from sexual harassment and even rape. 
"One Conservative analyst went on a website to suggest that if a women does not wear the hijab, then if a man has sex with her against her will she cannot call it rape," Alinejad told the Independent in April. 
But images of women defying the hijab law reveal some men reacting positively and respectfully. That's not to say men across Iran overwhelmingly support eradicating the hijab law, but those in the campaign's documentation appear to embrace the idea. 
"Men in Iran are educated and cultured. They are reacting positively because they support women having the freedom to choose. It is only the government who claims a woman who does not cover her head is bad," Alinejad told the Independent.
Alinejad left Iran in 2009 but still found herself the target of the Iranian government's propagandists, as they attempted to mar her reputation in retaliation for her campaign. They claimed that when she was in London, after removing her hijab, she was immediately raped by a group of men in front of her son. The government also claimed she had developed a history of drug use. 
However, any attempts to dismantle My Stealthy Freedom by discrediting Alinejad do not appear to have been successful, given how popular she and her movement have become. My Stealthy Freedom receives support from women who want and don't want to cover their head alike; it is about the right to choose, not about insulting Islam.
"Iran is for all Iranians. Iran is me and my mother. My mother wants to wear a scarf. I don't want to wear a scarf. Iran should be for both of us," Alinejad said in a Vox video about My Stealthy Freedom. 
Perhaps the tide is slowly changing, allowing Iran to revert back to what it once was, prior to the 1979 revolution: a secular place where women had the same rights as men. 
h/t BuzzFeed